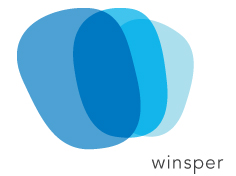 Boston, MA (PRWEB) December 07, 2011
Winsper has recently been hired by three new clients and has been awarded additional assignments from core customers.
The new clients are:
Autotask (East Greenbush, NY) – A privately-held technology company, Autotask's SaaS offering helps global IT service organizations manage their business. Winsper is retained to provide brand strategy, messaging, web development, advertising, CRM (customer relationship management) services, and creative solutions.
Brevard Brewing Company (Brevard, NC) – A new brewing company and bar specializing in premium authentic lagers. Winsper is hired for brand identity, packaging, and social media strategy.
Toffler Associates (Reston, VA) - Toffler Associates, a privately held executive consulting firm, founded by Alvin and Heidi Toffler, world-renowned futurists and authors of bestselling books such as Third Wave, Future Shock, and Revolutionary Wealth. Winsper is being hired as brand strategists.
Expanded business within current client base includes:
GlobalSpec (East Greenbush, NY) - Winsper has been hired to assist with brand strategy and messaging optimization.
Museum of Fine Arts, Boston (Boston, MA) – Complimenting last year's effort for engaging general visitors and lapsed members, Winsper has added a renewal effort for current museum memberships. Additionally, Winsper is providing CRM strategy and analytics.
About Winsper
Winsper is an independent "thinking firm" headquartered in Boston, MA. With its "Customer-Centric" platform, Winsper devises new ways for its clients to build their brand value over time and sales overnight by providing integrated solutions across all facets of clients' business that includes brand strategy, customer intelligence, cross-channel execution, and CRM solutions. Winsper is an independent agency representing both emerging and established companies in a variety of industries including finance, retail, and technology industries markets. Client experience includes IBM, STIHL USA, SAP Americas, Inglesina, Museum of Fine Arts, Boston, American DG Energy, and Hypertherm.
###