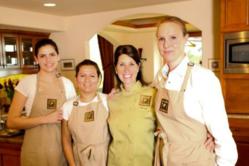 Without a doubt, this was the single best "Team Building" event in my 26 years with my company. Wow is an understatement!
San Diego, CA (PRWEB) December 06, 2011
Creativity is key when it comes to planning the corporate holiday party and La Jolla Cooks 4U may well be one of the most unique ideas and offerings available. Team Building Gourmet Cooking Class where staff members can mingle, relax and enjoy preparing a holiday meal together and then feast on their creations!
Ideally suited for executive or department teambuilding, sales meetings, employee rewards programs or getting acquainted with new hires, La Jolla Cooks 4U's Chef Jodi provides the perfect corporate hands-on gourmet cooking and dining experience. Classes are held in Chef Jodi's spacious Mt. Soledad custom home kitchen that offers stunning ocean and mountain views. Chef Jodi's classes include harvesting various organic vegetables and herbs from her garden, preparing a six- course gourmet meal and then dining on the deliciously prepared food complete with wine pairings.
Chef Jodi serves as the ultimate hostess for a variety of corporate cooking experiences including personalized cooking demos, farm-to-table cooking classes, farmer's market tours and gourmet foodie tours of San Diego. Each cook leaves the experience with the recipes from their own creation, a satisfied palate, and the knowledge that their time was well spent co-mingling with their work colleagues. Each guest takes home a recipe and menu booklet of all the recipes they learned to prepare. Lajollacooks4u can also provide customize aprons with your company's logo.
Lajollacoks4u, founded in 2008, provides an ideal activity for couples,team building and any foodie looking for a cooking and culinary experience in an ideal setting overlooking the Pacific Ocean. Based in La Jolla, a suburb of San Diego, CA, Lajollacooks4u has enjoyed record growth since its inception and has been ranked the number one attraction in La Jolla on the world's largest travel review site, Trip Advisor. For more information, contact Jodi Abel at jodi(at)lajollacooks4u(dot)com or phone 1-858-752-4980
###