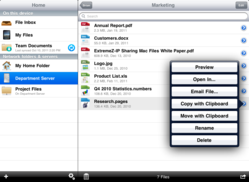 Until mobilEcho, we hadn't found a way to easily and securely extend files on our network. Now, they can pull any file they need, whenever they need it, from wherever they are, without any of our internal protocols being compromised.
Arlington, VA and Greenville, SC (PRWEB) December 06, 2011
GroupLogic®, the industry's leading provider of software products that unlock the power of new enterprise platforms, announced today that Elliott Davis, an accounting services firm for more than 85 years, has implemented its Mobile File Management (MFM) software, mobilEcho. Although iPads and similar devices were already part of Elliott Davis's technology landscape, mobilEcho now gives its employees the freedom and the confidence to use these devices to their full potential.
Elliott Davis wanted its employees to have access to files stored on the firm's server via their smartphones and tablets. However, security concerns, user interface issues, and complexity limited the options. In the past, Elliott Davis employees were only able to access email, calendar, contacts and note-taking on mobile devices. Now, with mobilEcho, these devices can be used for more than ever before – documents can be updated and revised in real-time during meetings, which saves time and resources, and information can easily be accessed from the road.
"The iPad has been great as a way to consume content, but our executive staff wanted to do more, such as gain access to our internal network," said Bob Jamison, Chief Information Officer of Elliott Davis. "Until mobilEcho, we hadn't found a way to easily and securely extend files on our network. Now, they can pull any file they need, whenever they need it, from wherever they are, without any of our internal protocols being compromised."
"As an accounting firm, Elliott Davis deals with massive amounts of sensitive information every day. Information that cannot risk being compromised," said Anders Lofgren, Vice President of Product Management at GroupLogic. "Like many of our customers, we understand Elliott Davis's concern – they wanted to embrace the power of the iPad, but were cautious to do that without ensuring files would be secure. mobilEcho was developed for just that reason – to give IT the peace of mind they need so they can focus on more pressing issues at hand."
About Elliott Davis
Elliott Davis is one of the largest accounting, tax and consulting services firms in the Southeast and ranks among the top 50 CPA firms in the U.S. With offices in SC, NC, GA and VA, the firm provides clients across a wide range of industries with smart, customized solutions and its people with rewarding opportunities. Founded in 1925, Elliott Davis is a member of The Leading Edge Alliance, an international professional association of independently owned accounting firms based in the U.S., and is strategically aligned with LEA Europe and LEA Asia Pacific, a worldwide network of more than 450 offices in 100 countries around the globe. For more information about Elliott Davis and its services, visit http://www.elliottdavis.com.
About GroupLogic
GroupLogic® helps enterprise and education IT organizations simply and securely integrate diverse computing platforms into enterprise environments, connecting employees to enterprise files, content and assets to facilitate a more productive and efficient work environment. With more than two decades of experience, GroupLogic leads the marketplace in helping IT organizations effectively and easily manage the integration of Apple products into the enterprise ecosystem. Whether IT organizations are looking to integrate existing Apple assets, purchase additional Apple hardware like Macs and iPads, or want to take advantage of the hardware costs savings that accompany the adoption of IT consumerization, GroupLogic enables IT organizations to easily and securely manage the rapid integration of diverse platforms while ensuring resources are optimized. GroupLogic enables the enterprise to focus on what is really important – competitive differentiation, improved employee productivity, mitigated risk and reduced costs. GroupLogic's proven products—ExtremeZ-IP, mobilEcho, ArchiveConnect, and MassTransit—are in use by some of the world's most innovative companies, including Christie's, International Greetings and Omnicom Group.
GroupLogic®, ExtremeZ-IP®, mobilEcho™, MassTransit®, Zidget®, ShadowConnect™ and ArchiveConnect™ are all registered or unregistered trademarks of Group Logic, Inc. All other trademarks referenced herein are the property of their respective owners. © 2011 GroupLogic, Inc. All Rights Reserved.
###