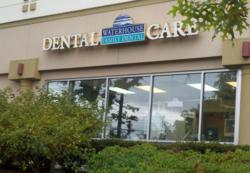 [Our patients] can have their questions answered on their own time, at their convenience, whether it's in the comfort of their own home or even at work,
Beaverton, OR (PRWEB) December 06, 2011
Implant dentist, Shawn H. Fotouhi, DDS, of Waterhouse Family Dental has announced the launch of a new, patient-focused website. The practice recently launched the new website created by dental website design leader, ProSites, Inc. The website contains interactive features including patient education videos and a testimonial section that allows patients to leave feedback about their dental visit. The website also utilizes extensive search engine optimization techniques to reach patients and local consumers who are searching for relevant information about Beaverton, OR dental implant, services.
"It is important to have a website and be readily available to people searching online because our office is in a high-tech area of which most of our patients or potential patients mainly do their research online. We need our website to be up to date and readily available to fulfill any and all of our patients needs," said Dr. Shawn Fotouhi.
Current and prospective patients now have access to information about providers, a before and after gallery of dental procedures, and other informative content when they visit the website. Some of Dr. Fotouhi's services include:
Cosmetic Dentistry
Sedation Dentistry
Tooth Extractions
Dr. Fotouhi is also utilizing his website to educate the community on the importance of oral hygiene. The website includes a links page with informative dental resources as well as a frequently asked questions page with topics ranging from at-home dental care to complex dental procedures.
As stated by Dr. Fotouhi, "Patients and users will benefit tremendously by visiting our links and frequently asked questions pages from our website, because they can have their questions answered on their own time, at their convenience, whether it's in the comfort of their own home or even at work. The links and questions pages will help patients be more educated and understanding of the care they are receiving or may require."
About Waterhouse Family Dental:
Dr. Shawn H. Fotouhi completed his undergraduate and graduate studies at the University of Missouri at Kansas School of Dentistry. After completing a one year residency in General Practice at the Portland VA Hospital, Dr. Fotouhi has continued his education receiving certification in Biolase, Lumineers, Zoom, and Invisalign. Beaverton Dentist, Dr. Shawn Fotouhi established Waterhouse Family Dental in 2000 and continues to provide quality family dental care to the community and surrounding Portland areas. Dr. Fotouhi is a member of the ADA, ODA, WCDS, and AACD and works as a member of the Northwest Medical Team, providing volunteer healthcare to those in need. For more information about Waterhouse Family Dental, please visit their website at wfdental.com.
###