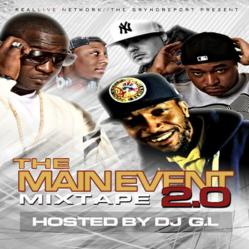 Miami, FL (PRWEB) December 06, 2011
Grynd Mobb Music Group recently released its mixtape "The Main Event Mixtape 2.0." Coast 2 Coast Mixtapes and RealLive Network present the project, which is hosted by DJ G.L. and now available for free download. "The Main Event 2.0" features tracks from artists like Big Mike, T. Parris, Fred the Godson, Tiffany Mynon, Delimah, S.H.A.H. Cypha, Young Money Dre, Mr. Skinny, Juno, iLLA, Ace Jonez, S.U.S, Import Geez, Corporate Smalls, Darq, Prince Ea, Jae Millz, Tone Trump, and more.
Grynd Mobb Music Group (G.M.M.G.) was created by founder/CEO Derrick Bryant, president Krystele Guy, and V.P. Leon Chandler, with the vision of bringing together independent artist/entertainers through promotions, sponsorships, and networking.
G.M.M.G consists of nine team members:
S.H.A.H CYPHA – Rap artist & writer
Lady Bishop – Rap artist, writer, actress, host & founder of Triple A for NYC's Pets (Ladybishop.com)
Ace Jonez – Rap artist, graphic designer & founder & CEO of Street Division Records.
S.U.S – Rap artist
Jayliene – Rap artist
Young Nye – Rap artist
DJ K Swift & DJ G.L.
Teri London – Magazine editor
G.M.M.G promotes all genres of entertainment. Thes include singers, rappers, clothing designers, models, dancers, photographers, videographers, producers, web and graphic designers, DJs, engineers, comedians, actors, actresses, and everyone who makes entertainment happen.
GryndMobb.com and Grynd Report Mix Tape & Magazine features those who are dedicated towards achieving their goals. They also sponsor various events and offer services towards prize packages. They are currently sponsoring Coast 2 Coast Industry mixers in Miami, Get Your Buzz Up Industry Experience in 6 cities (Philly, New York, Miami, Boston, Atlanta, and Madison, Wisconsin), The Main Event presented by Realivenetwork and Its A Go! Radio. Grynd Mobb also showcases up-and-coming artists in its Underground Movers Showcase, hosted by its very own Lady Bishop.
"The Main Event Mixtape 2.0" is available for free streaming and download at http://coast2coastmixtapes.com/mixtapes/mixtapedetail.aspx/reallive-network-and-grynd-mobb-music-group-presents-the-main-event-mixtape-2-o-hosted-by-dj-gl
###