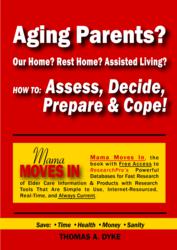 Dyke volunteers, "Most families include aging parents. Appearing and speaking before groups of all kinds about elder care is one of the most rewarding things I do."
Austin, Texas (PRWEB) December 08, 2011
Dyke Publishing Company will participate in the Pflugerville, TX Health Fair on Saturday, December 10, 2011 from 10:00AM to 2:00 PM. Tom Dyke, the publishing company's principal and author of Mama Moves In, will be available to discuss the primary facets of elder care: assessing, deciding, preparing and coping. Dyke will be offering insight and advice to families with aging parents.
The author moved his 85-year-old mom into his home and was her primary caregiver for her last 5 ½ years. The author's experience as the care giver for his aging parent is the primary source of his information and insight. Out of necessity Dyke built databases for elder care information and products. For book buyers, Dyke has made the databases available online. Dyke Publishing maintains and updates the databases to keep them current.
The author speaks to groups, associations, clubs and organizations interested in elder care for families with aging parents. Demonstrating his desire and willingness to help families with aging parents, Dyke will answer questions, share insights and autograph his recent release of Mama Moves In. Dyke volunteers, "Most families include aging parents. Appearing and speaking before groups of all kinds about elder care is one of the most rewarding things I do."
Among the types of health care vendors represented at the Health Fair will be on-site nurses, on-site companions, nursing facilities, assisted living facilities, real estate brokers, movers, massage therapists, financial experts, elder care advisors, law firms and publishers.
The Health Fair is being sponsored by the Pflugerville Nursing and Rehabilitation Center. The Center is also serving as a collection agent for the Toys for Tots Charity during the Fair and donations will be received with Christmas cheer. There will be food, entertainment, activities and other community involvement. . The Fair's location is104 Rex Kerwin Court, Pflugerville, Texas.
Dyke Publishing Company publishes and markets elder care books and information. The company office is in Austin, Texas and may be reached at: 512-547-3769. The author may be reached at Tom(at)DykePublishing(dot)com. For more information about the company and the author, see the right column of this press release.
###