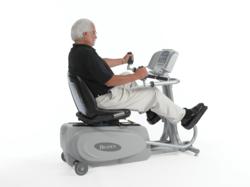 BioStep 2 is a great rehabilitative tool for cardiac rehab, neurorehabilitation and senior wellness.
Shirley, NY (PRWEB) December 06, 2011
Biodex Medical Systems, Inc., of Shirley, N.Y., has just released the New BioStep 2 semi-recumbent elliptical trainer. The BioStep 2 combines the benefits of smooth, elliptical, cross-training with the comfort, safety and stability in semi-recumbent positioning. Zero joint impact, plus biomechanically correct arm and ankle motion emulates natural walking patterns, a great rehabilitative tool for senior wellness, cardiac rehab, neurorehabilitation, sports medicine, general wellness and aerobic conditioning.
The elliptical motion of the BioStep 2 is naturally smooth and continuous; very different from the stop-start motion associated with other recumbent steppers. The step-through frame, simple easy-to-see and use display is combined with a comfortable, robust design to make BioStep 2 the obvious choice for therapists. With the fluid, elliptical motion, the BioStep 2 is forgiving on the knees, ankles, hips and lower back. The BioStep 2 reduces joint impact because the user is not required to lift and strike their feet on the walking surface.
Low impact total body exercise is ideal for senior fitness. In addition to providing a non-jarring workout, the BioStep 2's motion also helps strengthen the muscles important to maintaining a healthy function for mobility, walking and balance. The BioStep 2 incorporates both the upper and lower extremities into the cycling motion while patients experience less local muscle fatigue. Heart rates can be achieved at lower rates of perceived exertion when compared to traditional exercise ergometers. In addition, blood pressure can be checked while the patient continues to exercise.
The BioStep 2 is a feature-rich rehabilitation tool offering:

A choice of Optional Stabilization Packages which include foot strap, hand strap, seat belt, moveable armrest, foot restraints, calf support and hand/wrist cuff to accommodate neurological and musculoskeletal issues
Self-powered, self-charging, cordless capability
Large easy-to-use display features time, RPM, watts, calories, METs, distance, total steps, heart rate
Optimized seat height for wheelchair transfers
Robust design for heavy institutional use
20 resistance levels
The BioStep 2 is the one piece of equipment for general aerobic conditioning of the adult population providing zero impact, safe and comfortable total body workout with forward and reverse directions.
For more information, contact Biodex directly at: 1 800-224-6339 (Int'l 631-924-9000), Email: info(at)biodex(dot)com, or http://www.biodex.com or http://www.biodex.com/biostep
###