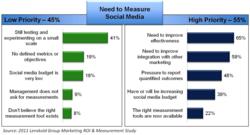 "As social media marketing becomes more strategic at influencing behaviors aligned to financial outcomes, measurements must keep pace." - Jim Lenskold, President of the Lenskold Group
Manasquan, NJ (PRWEB) December 07, 2011
More marketers indicate that measurement of their social media is a high priority, primarily to improve effectiveness and integration, according to the Lenskold Group 2011 Marketing ROI & Measurement Study released today (available at http://www.lenskold.com/2011mROIstudy). More than three out of four marketers are using social media to promote their business and, once they emerge from a testing phase, find both a need and pressure to measure and improve effectiveness.
Interestingly, when rating the strengths of their social media measurement capabilities, less than half of marketers surveyed report strengths in any one outcome, including basic measurements such as engagement and participation. However, given the early adoption stage of social media marketing and the measurement challenges, it is encouraging that roughly 20% of marketers currently have strengths in their ability to measure incremental sales, revenue and ROI.
The research study, conducted with a worldwide sample of 362 marketers, examined marketing ROI use and social media measurement practices. Key findings include:

Just over half of those marketers using social media indicate measurements are a high priority.
The drivers of this high priority for measurements include the need for improved effectiveness, the need for better integration and pressure from executives.
Those companies using marketing ROI metrics to assess and improve their general marketing effectiveness have advantages in outgrowing competitors and having more effective and efficient marketing programs
Users of marketing ROI Metrics for general marketing have carried this discipline into social media measurements, demonstrating broader capabilities and greater strengths in measuring incremental sales, revenue, and ROI.
"As social media marketing becomes more strategic at influencing behaviors aligned to financial outcomes, measurements must keep pace," according to Jim Lenskold, President of the Lenskold Group. "Basic measurements that track engagement are fine when first experimenting with social media. But in order to build executive confidence and scale social media programs, marketers must effectively integrate this channel with other marketing in the overall mix to generate sales outcomes."
The full 20-page report, available at http://www.lenskold.com/2011mROIstudy for free download, includes an executive summary, recommendations and detailed findings.
About Lenskold Group
Lenskold Group offers one of the most comprehensive and innovative approaches to applying marketing ROI techniques and tools to plan, measure and optimize marketing strategies toward maximum profitability. Lenskold Group combines financial discipline and a unique blend of measurement methodologies to deliver practical solutions that establish accountability and credibility for marketing organizations. The company has delivered high-quality consulting and marketing services to generate profitable growth for a broad range of client companies since 1997. Our team of accomplished professionals provides cohesive and comprehensive solutions in the area of marketing ROI processes, measurements and analytics. Company President and Founder, Jim Lenskold, is author of the award-winning book, Marketing ROI, The Path to Campaign, Customer and Corporate Profitability.
###