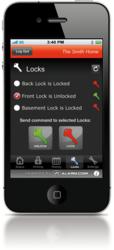 Vienna, VA (PRWEB) December 08, 2011
In 2010, burglary victims lost $4.6 billion worth of property, according to the FBI. The average loss per robbery was $2,119. This holiday season, Alarm.com reminds homeowners to protect their property, valuables and family by using an interactive security system, and to share that gift with loved ones.
Most homes that are robbed don't have the security system armed at the time, and instead many simply leave a single door unlocked. When giving a gift of interactive security, beyond arming the home alarm system and locking the doors, Alarm.com recommends the following four ways to get in the spirit and stay protected this holiday season:
1. Adopt a new look and feel – The holidays are a time to get safer, especially with all the attractive new gadgets and gifts (i.e. - burglar eye candy) that will be scattered around the house. Both during and after the hustle and bustle, use an interactive security system to not only help to keep a home safe, but also to stay in the know of all activity in the home. An alarm system that works through remote control via the Web or a home security mobile app truly puts protection in the hands of the homeowner. Family members can conveniently use a laptop or smartphone to arm the security system, turn on specific lights, monitor motion activity and track doors opening and closing, all on-the-go.
2. Relive familiar traditions – Remember all the good times shared with family and friends last year? What about last month during Thanksgiving? Using an interactive security system and an integrated video monitoring solution, it's simple to remember the events that occurred at a property. Video cameras can record clips whenever motion is detected (maybe by the chimney?) and upload them to an offsite storage system, which prevents tampering. Watch them at your convenience to check for unusual patterns. Plus, interactive security offers the ability to check a complete security history log from a smartphone or computer. Find out who disarmed the security system last night, or if the basement door was opened earlier this morning.
3. Take care of treasured collections – While it is the season to adorn the outside of a home with ornate decorations and twinkly lights, burglars are looking for what's inside. Take the empty gift boxes and packaging to a local trash collection facility. Utilize remote door lock controls so any or all of the doors can be locked from afar, especially after a night of gift giving. For a home that thinks for itself, choose a home automation security solution that will lock all the doors, turn off all the lights and turn down the thermostat whenever the security system is armed. When it comes to the ultimate protection, make sure the security system will still be able to send an alarm signal even if the power goes out, the panel is damaged or the phone line is cut.
4. Spread joyful tidings – The centerpiece is on the table, garlands are hung on the mantel and the family's faces are lit up with smiles. It's easy to spread cheer around the house by welcoming guests and family members, but an interactive security system can make your holidays even more comforting. Give scheduled guests unique security system user codes to track who's coming and going in order to prevent unwelcome strangers. Warm up houseguests even while out running errands by adjusting the thermostat remotely with a security mobile app. Get the whole family set up to receive text message or email alerts about important incidents like the garage door being open too long. Stay secure, stay connected, even during the busiest of days.
Remember that during peak times of theft like the holiday season, it is worth considering the multitude of features offered by an interactive security system beyond standard home alarm notifications. Video monitoring, home automation, wireless technology and energy management tools are all available security offerings that will keep families safe and sound by informing them about everyday events and also break-ins.
About Alarm.com
Alarm.com, founded in 2000, is the industry leading technology provider of interactive security solutions. Through advanced wireless monitoring, mobile and web-based services, and a proven hosted services platform, Alarm.com helps protect hundreds of thousands of residential and commercial customers throughout the United States and Canada. Alarm.com's products and services are offered exclusively through a network of over 2,500 licensed and authorized Security Dealers. Alarm.com's headquarters is located in Vienna, VA. For more information, visit http://www.alarm.com.
# # #