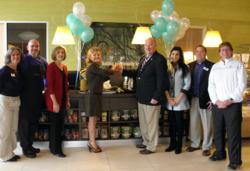 Mount Kisco and Cross River, NY (PRWEB) December 05, 2011
O2Living, a holistic lifestyle and wellness community and juice cleanse provider, is pleased to announce the opening of the O2Living Live Food Café located at Saw Mill Club East, 333 North Bedford Road in Mount Kisco.
The live food café, conveniently located inside the newly remodeled Saw Mill Club East, features O2Living's fresh-pressed raw fruit and vegetable detoxifying juices and live foods cuisine. In addition to the café's daily offerings, guests can pre-order their raw live food plans and signature juice cleanses for pickup at the facility. Meal plans can be customized to meet special dietary requirements with the help of O2Living's Registered Holistic Nutritionist, Holly Niles, B.Sc., R.N.C.P., R.H.N., RYT.
O2Living at Saw Mill East marks the company's second location in Mount Kisco. A small holistic wellness boutique is located inside the Saw Mill Club (77 Kensico Drive, Mount Kisco). Headquartered in Cross River, O2Living's fresh-pressed fruit and vegetable juices are also available for pickup at Apogee in White Plains and Bedford Hills, Jordane's in Irvington and Sportsplex in Stamford, Conn. Making fresh, nutrient-rich juices available for pick-up throughout the Westchester community is part of an ongoing effort to make a wellness-centered lifestyle more accessible.
"Eating well and keeping physically fit go hand-in-hand," said Rosemary Devlin, founder, O2Living. "We are excited to open our second Mount Kisco location and to be part of the Saw Mill East community."
Juice cleanse and live food plan orders must be placed by 2 p.m. to guarantee next-day pick-up at Saw Mill Club East. Orders can be placed via telephone, in-person, or through O2Living's new "Juice Cleanse" app for iPhone, iPad, and iPod Touch. The free app, available for download through the App Store, provides users with information about cleansing and detoxifying, as well as the specific juice cleanses and raw food plans available at O2Living.
The O2Living Live Food Café is located at Saw Mill Club East, 333 North Bedford Road in Mount Kisco. To place an order or for more information, visit O2Living online at O2Living.com, become a fan on Facebook or follow @O2living on Twitter.
###