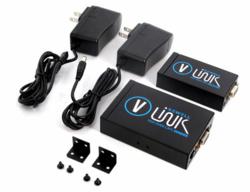 With the lower cost of Cat5e cable, this kit will decrease the overall cost of a serious VGA installation by hundreds of dollars while improving the quality of the set-up.
Orem, UT (PRWEB) December 07, 2011
At the close of November 2011 Sewell announced a new product called the v-Link, a product which several religious institution customers of Sewell have been indicating a need for over the years. Church congregations continue to grow in many parts of the country, but increased building sizes coupled with the distance limitations inherent in video signals causes major problems for church techies. VGA, perhaps the most commonly used video signal, will start to degrade over about 10 meters when run over typical VGA cable. Sewell developed and released the new v-Link VGA over Cat5e which sends VGA over three times this distance (1000 feet) and also allows the installer to use inexpensive Cat5e cable instead of expensive VGA cable.
Nowadays, church congregations have increased their use of visual technology such as projectors, flat screens, and complex cable runs because of the decreased cost of these components. Pastors and preachers are relying more and more on audio/video equipment to fully convey their message by creating presentations and videos on their computers. These computers almost always output a VGA signal, and if the pastor wishes to run this from his laptop to a distant projector or a remote flatscreen, chances are he/she will need a Sewell v-Link so the VGA signal can make it to its destination.
Sewell also made sure to include audio extension with this kit. Since virtually all computers output audio through a 3.5mm stereo port, the v-Link also features a 3.5mm stereo connection and will extend stereo audio alongside the VGA signal.
With the lower cost of Cat5e (Sewell sells 1000 ft. spools of Cat5e for around $55), this kit will decrease the overall cost of a serious VGA installation when ultra-long VGA and 3.5mm cables that together typically cost hundreds of dollars are taken out of the equation. The lower cost and higher reliability of the set-up will make preachers happy and will also save more on the church's bottom line to further facilitate spreading the good word.
###