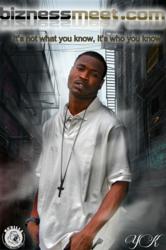 "YK" currently featured on MoRilla Music Group projects...is set to take the Hip Hop world by storm!
Winston Salem, NC (PRWEB) December 06, 2011
YK is not your typical trapper turned rapper. Raised in Winston Salem, NC, YK was born on June 2, 1988. At an early age YK was exposed to very diverse environments. Having spent time living in Colorado, Nebraska, Georgia and a few other states, YK quickly learned to adapt to new environments and situations. By the time he was 15 he started to notice that he kept a lot of his feelings and thoughts trapped inside and wanted to tell the world of his experiences. This discovery turned into YK writing down his thoughts and expressing them in the recording studio.
As a featured artist with Morilla Music Group, YK is pushing to be the most lyrically proficient and authentic rapper alive because he speaks of true events that happened in his life. YK feels that rapping is a way that he can tell his story and he will share the good, the bad and the ugly with his listeners.
YK is currently being featured on current MoRilla Music Group projects. He continues hone his craft as a writer, producer and performer and is set to take the hip hop world by storm.
For more information on YK:
Please visit http://ykhiphop.com/
Also on; http://www.biznessmeet.com
###