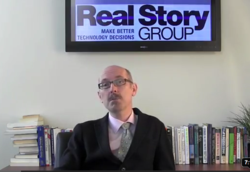 #5: Death of the intranet as we know it
(PRWEB) December 06, 2011
The Real Story Group has just released its annual technology predictions that serve as a guide for where the technology marketplace may go in 2012. Principal Alan Pelz-Sharpe recorded the annual predictions this year, noting that this is the sixth edition of the end-of-year predictions from The Real Story Group's team of analysts.
The predictions for 2012 include some interesting and bold statements that predict the death of the intranet, the collision of CMS and CRM tools, new technology marketplace job creation, and increasing demands for social software in Microsoft SharePoint. View the complete 2012 predictions with explanations of the implications for each within the marketplace.
The 2012 Real Story Group technology predictions are:
1. Big data meets web marketing
2. Enterprise search marketplace opens up… again
3. Social services are questioned in SharePoint
4. CRM and CMS on a collision course
5. Death of the intranet as we know it
6. BPM springs back to life
7. Managing rich media goes mainstream in the enterprise
8. Big data blows into the cloud
9. Pervasive mobile-only apps
10. New job titles emerge
11. Security fears rise: phones, tablets, the cloud —where is our content?
12. Lines blur between commercial and open source technologies
Read an explanation of these predictions and see the predictions video at: http://www.realstorygroup.com/Blog/2260-2012-Technology-Predictions.html
About The Real Story Group
The Real Story Group just celebrated its 10th birthday and will soon open a new office in London at the end of 2011. The Real Story Group provides research and advisory services to support end users through content technology selection and implementation. Through highly detailed technical evaluations, Advisory Papers, and other premium services, The Real Story Group helps sort out the complex technology landscape, so that you can minimize time and effort identifying technologies suited to your particular requirements. To retain its independence as an impartial analyst firm, The Real Story Group works solely for solutions buyers and never for vendors.
For Release
Contact: Ian Hughes, ihughes(at)realstorygroup(dot)com
Marketing, The Real Story Group
Work +1.617.340.6464 ext. 20
http://www.realstorygroup.com
###