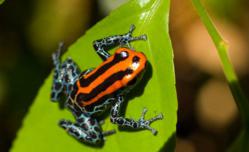 The knowledge and enthusiasm of the expedition leader and naturalists ... really made this journey special.
HELENA, Ala. (PRWEB) December 06, 2011
Many savvy travelers are planning their next journey to take advantage of special early-booking incentives, and International Expeditions is helping budget-conscious adventurers jump start 2012 with an enticing gift. Those who book any March or May Amazon River cruise departure by December 31 will receive free in-country airfare — a $368 value per person. While this special savings is a treat, the true highlight of this compelling journey is learning about the legendary nature and vibrant culture of the Peruvian Amazon from seasoned local guides.
"The knowledge and enthusiasm of the expedition leader and naturalists was exceptional and they really made this journey special," said Rala Stone of Burke, Va., who traveled on the Amazon tour in October. "The guides shared so much information about village life, which was really interesting, plus they were open and answered a lot of questions."
Guests on the 10-day Amazon Voyage expedition travel more than 600 miles on the Amazon River and its narrow tributaries aboard the classically styled 24-passenger riverboat Aquamarina. Daily naturalist-guided outings take travelers deep into the Pacaya-Samiria National Reserve to spot diverse wildlife, hike into the rainforest, and even fish for piranha. Only International Expeditions travels to the second ranger station in the reserve on each journey, ensuring guests the best opportunities for rare wildlife sightings. During excursions into the narrow river tributaries, guests may spot more than 100 kinds of birds, pink and gray river dolphins, sloths, giant otters and nocturnal animals such as caimans and capybaras.
Amazon cruise passengers also spend time with the ribereños, native people of the Amazon's remote villages, handing out school supplies to children and meeting with a local shaman. Guests enjoy a penetrating glimpse into daily life while also taking time to participate in a blessing ceremony, learn about local agriculture and crafts, or sing Peruvian songs. Ensuring a high level of authenticity, IE varies the villages guests visit during their Amazon expedition.
When not discussing the rainforest or village life with the local guides, guests can stargaze on the open-air top deck or sip cocktails while enjoying the evening entertainment, courtesy of the ship's local crew. An attentive 16-member crew ensures that guests are well looked after during their days aboard the Aquamarina.
Prices for IE's 2012 Amazon riverboat cruises start at $3,898 per person, and include accommodations, excursions, complimentary laundry, most meals, guides, transfers, and tips to porters and waiters for included meals.
About International Expeditions
Celebrating 31 years of nature travel, International Expeditions specializes in small-group journeys to Earth's most exhilarating destinations. A pioneer of environmentally responsible travel, IE is committed to preserving natural habitats and improving the welfare of the people and communities it visits. International Expeditions has been named to Travel + Leisure's list of "World's Best" tour operators & safari outfitters for seven consecutive years and to National Geographic ADVENTURE magazine's list of "Best Adventure Travel Companies on Earth."
For more information or a brochure on the Amazon River cruise, call International Expeditions at 1-800-234-9620, e-mail nature(at)ietravel(dot)com, or visit http://www.IEtravel.com.
###