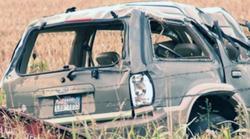 Killeen, TX (PRWEB) December 06, 2011
New vehicle technology continues to emerge, providing upgraded equipment and materials that will safeguard drivers and passengers during a rollover accident, preventing them from being ejected from the vehicle.
"The fact that almost half of occupants killed in auto accidents are ejected from vehicles is a startling statistic," Managing Partner of The Carlson Law Firm, P.C., Craig Carlson said. "Especially when small, sometimes inexpensive changes could save lives."
Glass is just one piece of safety equipment that the National Highway Traffic Safety Administration will encourage automakers to consider upgrading in order to restrain vehicle occupants during serious crashes. In addition to making recommendations, the NHTSA will also begin introducing a long-term plan of making automobiles safer by phasing-in new requirements.
Though implementation of new regulations, regarding crashworthiness and ejection prevention among vehicle will take years, the NHTSA has set 2017 as the date for automakers to reach full compliance.
While side-air bags are one method of ejection protection, highlighted by carmakers in the New York Times article, "In a Rollover, You're Safer Inside," small changes could prevent some of the injuries and deaths associated with fatal rollover accidents and resulting ejection.
Current regulations by the NHTSA require that windshields must stay in place if broken during a crash, a requirement that led to the use of laminated glass for vehicle windshields, in contrast with lower quality tempered glass.
While tempered glass will often shatter upon impact, laminated glass is held together by a layer of plastic, preventing vehicle occupants from being ejected through openings. But despite the clear difference and use of laminated glass in windshields, many manufacturers continue using its tempered counterpart on other openings because of its cost efficiency.
Upgraded regulations and newly emerging requirements about the crashworthiness of vehicles in the U.S. are a step in the right direction, but, as The Carlson Law Firm's personal injury attorneys witness often, upgraded safety equipment and adoption of transforming technology by auto manufacturers is sometimes too little, too late.
Established in 1976, The Carlson Law Firm, P.C., has an extensive history of personal injury representation, advocating for those injured or killed in rollover and roof crush accidents because of product negligence. Visit the website for more information about the firm as well as vehicle crashworthiness and roof crush.
###