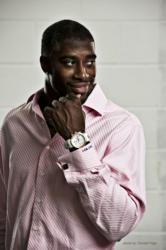 "How you spend your time will determine everything about you. We need to make the most of every moment by making a serious change and utilizing every second… don't waste your time, do something that is meaningful, and be someone that matters in this world
Los Angeles, CA (PRWEB) December 07, 2011
Giantto watches is partnering with BG Sports to support celebrity athlete's foundations and charities – to raise awareness of the value of time and highlight how top athletes use theirs to make a difference. Roman Harper is the third athlete to partner with giantto watches and take part in The GAMETIME campaign, following Ron Brace (New England Patriots) and Craig Dahl (Saint Louis Rams).
For every tackle Roman makes during the December 18h game versus the Minnesota Vikings and the December 26th home game versus the Atlanta Falcons, the Giantto Group will donate a signature Giantto 'Just G' watch to Roman's foundation, Harper's Hope 4*1. These watches will be auctioned off at several Harper's Hope 4*1 events to raise money for the foundation.
The Giantto GAMETIME campaign represents an inspirational mantra and symbolizes the time to do something more, make a change, or to step up your game…"How you spend your time will determine everything about you. We need to make the most of every moment by making a serious change and utilizing every second… don't waste your time, do something that is meaningful, and be someone that matters in this world." ~ Anthony Giantto, CEO of the Giantto Group
Whether it's valuable seconds on the game clock or hours helping others off the field, Roman recognizes what really matters.
Giantto interviewed Roman to get his perspective on how he tackles life on and off the field. When asked how he defines time, Roman replied, "Time is something you can never get back."
Giantto asked Roman what his most memorable moment in time was and he described,
"My most memorable moment in time was winning the Superbowl in 2009. That was very special. There was maybe a minute or so left on the clock in the fourth quarter, and we stopped the Colts on fourth down. At that moment we all started celebrating on the field!"
Giantto asked Roman about his foundation, Harpers Hope 4*1, the purpose and previous projects, Roman explained,
"It's important to reach out through my foundation Harper's Hope 4*1 because it won't happen unless I make it happen. You can't just start a foundation and not put your time and efforts into it. The main purpose of Harper's Hope 4*1 is to fulfill the need to lend a helping hand to challenged youth and their families to promote better leaders of tomorrow, and the future of the nation.Some of Harper's Hope 4*1 Foundation's past activities include: Christmas Toys, United Way fundraisers, football camps, PSA for United Way's Gulf Coast Recovery Fund; and "Spring into Reading" campaign."
"Currently, I've also teamed up with United Way for the "Live United Campaign". Our goal is to cut the high school dropout rate in half by encouraging individuals to become volunteer readers, tutors or mentors. I've committed to recruit 1,000 volunteers per year for the next three years. Anyone can sign up and all you have to do is go to the website and pledge that you will volunteer, tutor, mentor, or read to a youth in your local community. http://liveunited.org/team-nfl/players/roman-harper/"
Roman also went on to explain about his current campaign "Hope for the Holidays", "My former teammate Darren Sharper and I teamed up with United Way beginning last year and developed "Hope for the Holidays", which supports the United Way's "NO Place like Home" initiative. We help to rebuild homes destroyed by Katrina to put families that have been displaced back in their homes for the holidays. This year we have also teamed up with several other teammates, Malcolm Jenkins, Jahri Evans, and Lance Moore. Hope for the Holidays really means a lot to me, especially after doing it last year. Just seeing how it changes these people's lives. Seeing the smiles on their children's faces. The coolest part about it is the relationships you develop after doing the whole thing. It really feels like I know the families."
For further information:
Giantto Group: Taleen G., 818-486-1211, taleen(at)giantto(dot)com or visit http://www.giantto.com,
general info at 877-GIANTTO.
Harper's Hope 4*1 Foundation, http://www.HarpersHope41.org
###