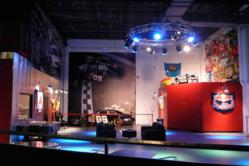 Irvine, CA (PRWEB) December 06, 2011
K1 Speed Phoenix, opened in 2011, is one of 10 K1 Speed locations open nationwide, and the first opened in the state of Arizona. As the largest indoor karting company in the country, K1 Speed is committed to providing a world-class racing experience to its customers, and to achieve this goal the company caters to a variety of clientele. With the opening of its Phoenix location, K1 Speed is introducing all-electric indoor go kart racing and a reinvigorated approach to corporate events to the Southwest. Featuring more than 50,000 sq. ft. of space, high-performance electric go karts, and a professionally designed racetrack, K1 Speed Phoenix is tailor-made for racing enthusiasts and adrenaline seeking individuals; however, with fully equipped meeting rooms on-site and a range of corporate packages available, K1 Speed is well-suited to meet the needs of corporate clients as well. Suffice to say, K1 Speed Phoenix offers the corporate community a truly unique experience, and one that won't be forgotten the next day by those who attended.
Though wheel-to-wheel racing is the most attractive feature of a K1 Speed corporate package, and the one that people will gravitate towards, it is important for K1 Speed to be able to meet the corporate needs of a corporate function as well. Without being able to meet both the business and team building needs of corporate clients, K1 Speed Phoenix would be unable to provide clients with a complete package that fully satisfies their needs. To provide for business needs, K1 Speed Phoenix has multi-media meeting rooms and a diverse range of catering options. The meeting rooms vary in size and can accommodate parties from five to 100. For presentation purposes, the meeting rooms are equipped with televisions, a projection screen, and wi-fi connectivity. And with catering options that include local caterers and restaurants, your team can support local business while staying fed. Of course, after the necessary points have been discussed and the meeting is complete, team building can commence – out on the track, in our European electric go karts!
Gas-powered go karts are popular, and and are used at amusement parks across the country. However, the zero-emission, all-electric go karts at K1 Speed are far superior in many ways, and K1 Speed has used them since inception. The electric karts at K1 Speed Phoenix have more torque and quicker acceleration than their gas-powered alternatives, and are both cleaner and quieter. As a result, K1 Speed Phoenix has a much more agreeable and inviting atmosphere than you may be accustomed to from a go kart track. The zero-emission electric motors give up nothing in the way of performance however. Environmentally friendly, these electric karts can reach speeds of 45mph, and provide a genuine thrill that novice and experienced racers alike can enjoy. To ensure participants' safety, the track is professionally designed and constructed, and features collision-absorbing barriers and a remote shutoff capability to stop all karts on track. Even if you're an avid go kart fan, K1 Speed's electric karts are truly special, and you can race in a safe and controlled environment.
In-between races and presentations, individuals can relax, chat amongst co-workers about their on-track exploits, and enjoy a snack or refreshment from the Pit Cafe in the spacious lobby. Adorned with authentic racing memorabilia, including racing suits and helmets from world-class racecar drivers like Travis Pastrana and Ron Capps, and racecars from the worlds of stock car racing and open wheel, the lobby is a tribute to all things motorsport. With ample seating areas, club-like lighting, and plasma televisions that display live telemetry of the on-track action, it is easy to stay involved while winding down.
K1 Speed Phoenix is conveniently located for companies located throughout the greater metropolitan area, including those headquartered in Scottsdale, Peoria, and Glendale.
###