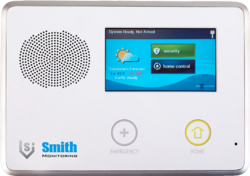 Dallas, TX (PRWEB) December 06, 2011
Smith Monitoring, Inc. today announced the features of the Go!Control panel, which is the central networking station at the heart of its Smart Home automation package. As the exemplar of Smith's advanced technology and commitment to customers, the Go!Control panel empowers users to take control of their home protection through a persistent, secure wireless connection, a user-friendly interface, and the ability to add modules to personalize and extend the system's feature set.
Each Go!Control panel contains a secured GSM wireless chip that communicates with cellular towers in the area, allowing it to operate independent of users' phone lines, keeping a constant connection in case the phone lines are cut; even freeing them of the need to purchase a landline. Z-Wave technology comes standard in each Go!Control panel, which connects and controls all the user's Z-Wave-compatible appliances. The panel has the capability of networking a user's home with their security system, taking home automation to an unprecedented level of security.
For all of its advanced features, the Go!Control panel is easy to use. Its large touchscreen facilitates user interaction on a tactile level, and the user interface is intuitive. Within the space of a few simple touches, users can find the local forecast, arm their system, add new modules, and modify their notification preferences. The system sends email or text notifications directly to users, informing them of imminent dangerous weather conditions, sensor disturbances, indoor temperature fluctuations, and more with customizable preferences. With its built-in wireless chip, the panel is able to receive over-the-air updates so it will never be out of date or unable to connect a new module.
The various modules currently available include: the various security sensors, infrared motion detectors, glassbreak sensors, vanishing contacts, and smoke detectors; light/appliance modules to turn on the lights or switch off the television from anywhere in the world; video cameras, either fixed-lens or pan-tilt, which allow users to watch live and recorded video via their computer or smartphone; and a Smart Thermostat that enables users to control their HVAC through the ubiquitous connectivity of the panel. The Go!Control panel has been mindfully designed with comprehensive connectivity, an intuitive user interface, and a customizable feature set; truly a great leap forward in home automation.
Smith Monitoring Inc. is headquartered in North Dallas and serves throughout Texas, Georgia, and California. Committed to providing advanced technology and comprehensive security monitoring to the community that has given it success, Smith Monitoring has received the rank of A from the Better Business Bureau every year since its inception. Information about Smith's Smart Home Package, modules, services, pricing, and more is available on the Smith Monitoring website.
###