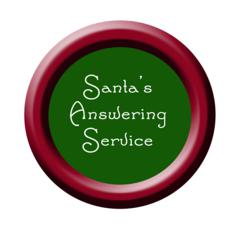 "I'm very thankful for the Santa hotline. This puts a smile on my face just speaking with the kids. Knowing that Appletree will make some child's holiday season a bit merrier is the best feeling in the world."
Wilmington, DE (PRWEB) December 06, 2011
Appletree's holiday campaign as Santa's Answering Service stirs excitement with children and customers this holiday season. The toll free number is available to the public and can be found at http://www.santasansweringservice.com
The answering service and call center company set up a toll free number for children to talk with a live person acting as one of Santa's elves. Each caller is encouraged to leave his or her holiday wish list and the Appletree employee makes a promise to deliver the message to Santa at the North Pole. The campaign's main goal is to provide children with a positive call experience this holiday season.
"For our Santa's Answering Service campaign, we're determined to make the call experience positive for each child," says John Ratliff, chief executive officer (CEO) of Appletree Answers. "A positive call experience is our main concern for every customer and our priority with this campaign is no different."
Appletree Answers is a full service call center and answering service with 22 call centers across the United States and Puerto Rico. Appletree employees will be available 24/7 to answer calls and take children's wish list messages this holiday season. Along with calls from the Santa's Answering Service campaign, Appletree experts will be particularly busy during the hectic holiday season helping other businesses with overflow and after-hour calls.
"I'm very thankful for the Santa hotline. This puts a smile on my face just speaking with the kids. Knowing that Appletree will make some child's holiday season a bit merrier is the best feeling in the world." says Tracy Gleason-Richmond, an Appletree customer experience expert.
Appletree has a variety of customers across multiple industries including healthcare, service, legal, and retail that rely on Appletree experts to take messages, schedule appointments, patch emergency calls, and essentially operate as an employee of their company. Appletree's 24/7/365 availability will allow these customers to enjoy the holiday time off with the peace of mind their customers can reach a live person if an emergency or customer need should arise over the holiday break.
For Appletree's toll free number for Santa's Answering Service, visit http://www.santasansweringservice.com. Santa's Answering Service is available 24/7 until December 24 at 12:00 pm EST to accept messages. There is no charge associated with this service.
###