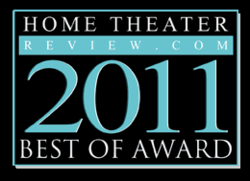 "With the rise of big box retailers and increase popularity of warehouse stores for higher-end home theater and video products, the need for good information on the elite best AV products is stronger today than ever."
Los Angeles, California (PRWEB) December 07, 2011
HomeTheaterReview.com is out today with its list of the absolute best home theater and audiophile components, just in time for Christmas. For those looking for the best HDTV, Blu-ray player, media server, video projector, speakers, headphones, HDMI receiver or other AV product, HomeTheaterReview.com has compiled an ultimate list.
"With the rise of big box retailers and increase popularity of warehouse stores for higher-end home theater and video products, the need for good information on the elite best AV products is stronger today than ever," says HomeTheaterReview.com publisher Jerry Del Colliano. "If you are looking for the ultimate in Christmas shopping lists for tech-savvy movie and music lovers, we have you covered at HomeTheaterReview.com with our 2011 Best of Awards."
HomeTheaterReview.com's Best of Awards, like all of its content, is free to consumers to read and is compiled by the publication's reviewers, editors and publisher. HomeTheaterReview.com content is located online and can also be accessed by smart phones.
About HomeTheaterReview.com
HomeTheaterReview.com is one of the largest specialty audio/video and consumer electronics publications on the Internet. Since 2008, the publication has been reviewing the best in high-performance home theater and audiophile components, remotes, speakers and much more.
About Luxury Publishing Group Inc.
Luxury Publishing Group Inc., the parent publishing company of online magazines including HomeTheaterReview.com, AudiophileReview.com, HomeTheaterEquuipment.com, LuxuryGolfTravel.com and more. LPG is a new-economy company that is growing rapidly in the space of new media, social media and user engagement.
For more information about Luxury Publishing Group or to interview Luxury Publishing Group's CEO, call 310.860.9988 or email jerry(at)hometheaterreview(dot)com.
# # #