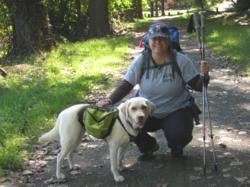 Every year since 9/11/2001, one singular thought has dominated my mind: I have not done enough to justify the gift of my life. I finally decided to change that, so I founded Walk4Good."
New York, NY (PRWEB) December 07, 2011
"My ultimate goal is to inspire people to practice kindness in their everyday lives," says Christine Baker, president of Nyack-based CB Creative, Inc. and founder of a new non-profit charitable organization called Walk4Good™.
Baker launched Walk4Good™ just after the 10th anniversary of 9/11. She explains, "I overslept by about 15 minutes on 9/11. That extra 15 minutes kept me from being at the base of the World Trade Center when the towers were struck. Instead, I watched out the window from safety just across the river in New Jersey as the towers smoked like two giant chimneys and fell to the ground. Every year since 2001, one singular thought has dominated my mind: I have not done enough to justify the gift of my life. I finally decided to change that, so I founded Walk4Good."
Walk4Good™' s primary mission is to inspire and empower people to practice kindness and to pass acts of kindness onto others. The organization envisions a world where people of all ages are more engaged in their local communities and personally deliberate in their willingness and intent to help those around them.
The inaugural event sponsored by Walk4Good™ is a mammoth undertaking by Baker and her yellow Labrador Retriever named Jessie. Together, they will walk the entire 2,180 miles of the Appalachian Trail – from Maine to Georgia – with the primary goal of inspiring others to pay-it-forward and practice random acts of kindness.
Already, Walk4Good™ is generating a great response from people across the country, and around the world. With their active Facebook (@walk4good) and Twitter (@thewalk4good) pages along with YouTube videos (@walk4good) and speaking engagements, the organization has already received nearly 250 dedications from people promising to pay-it-forward. Dedications have come as far as Poland and Alaska.
"We still have just over 1,900 dedications to go, but the dedications we've received are incredibly inspiring," says Dara L. Onofrio, Esq. president of Walk4Good™'s Board of Directors. "One person decided to buy lottery tickets and randomly give them to strangers. Another person created an annual toy drive for kids in honor of her mom who recently died. Christine's unwavering determination to not only hike the trail, but inspire others to look at their lives differently is creating a space for people of all ages to connect, be inspired, and change the world."
Baker is training for the physical challenge of hiking the trail as well as receiving support from other thru-hikers and hiking enthusiasts. She and her dog, Jessie, have been visiting area colleges and high schools to make presentations about the organization and ways children can practice kindness in their own lives. In fact, the North Rockland High School Project LIFE Class will be hosting a presentation by Walk4Good™ founder Christine Baker on Friday, December 9th, reports Dr. Michael Gill, principal.
The organization is currently seeking corporate sponsors. A large portion of the funding they receive will be given away to local and regional charities. Says Onofrio, "we thank United Building Maintenance Corporation for becoming the first corporate sponsors, and we are excited to partner with other companies who value a commitment to social change and positive community engagement."
About Walk4Good™
Established in 2011 as a 501(c) 3 non-profit organization, Walk4Good™'s sole purpose is to harness the power of positive thinking, of doing good and helping others, one step at a time. By connecting people from different backgrounds, cultures, and walks of life, Walk4Good™ focuses on creating positive, caring, pay-it-forward momentum through acts of kindness. Walk4Good™ is funded 100% by donations, grants and sponsorships. Walk4Good has no religious, political or organizational affiliations of any kind. We promote caring, kindness and living in the present moment.
The Mission:
Walk4Good™ is a growing community of kindness-driven individuals from all walks of life whose primary mission is to inspire and empower people to practice kindness and to pass acts of kindness onto others. We envision a world where we are all a more engaged in our local communities and personally deliberate in our willingness and intent to help those around us.
Where to Find Walk4Good:
Website: Walk4Good.org
Facebook: Walk4Good
Twitter: @Thewalk4good
YouTube: Walk4Good
###