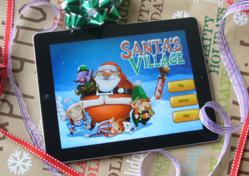 "We thought it would be fun to produce a game that families could play together, that drew on the nostalgia many of us feel this time of year," says Making Fun president John Welch.
San Francisco, CA (PRWEB) December 06, 2011
Santa's Village, a great new game for all ages and skill levels, is gaining popularity with consumers as millions of Americans prepare to take part in various traditions around the approaching holiday season. A new survey -- commissioned by Making Fun and conducted by Kelton Research – found that 70 percent of the nation is planning to add holiday-themed mobile video games to their lists of seasonal traditions this year.
In the midst of the joy and chaos of the season, more than three in four (76 percent) of these potential gamers would play holiday-themed games for the fun of it, while 47 percent would see it as a stress-reliever. Others would use the game as an opportunity to help get in the spirit of the season (48 percent) or to bond with a family member (39 percent).
Since its debut in the marketplace in late November, Santa's Village has been downloaded by over 700,000 people and is continuing to gain popularity around the world. Available for free to download for iOS and Android mobile devices, players help Santa by constructing houses for the Elves, building toy factories, and making presents for all the good girls and boys. Santa's Village also includes mini-games like Reindeer Flight School, where you teach reindeer how to fly, and Snowball Frenzy where you have snowball fights with the mischievous Grumpkins. Santa's Village brings out the best of mobile devices, especially the iPad and Android tablets. The 3D zoom feature allows a 360-degree view of the village and ability to look completely around buildings, giving the player a unique view of the landscape that is not available in most games. Whimsical graphics and engaging gameplay make Santa's Village a must-have this season.
"Until now, we haven't seen a lot of really great games centered on a holiday theme," says Making Fun President John Welch. "We thought it would be fun to produce something that families could play together, that drew on the nostalgia a lot of us feel this time of year, and inject it with sophisticated graphics and the 3D technology that allows players to look around the cool village they have built."
Santa's Village is available to download for free in the iTunes store and the Android Market, or by going to http://www.makingfun.com.
Survey Methodology
The Making Fun Holiday Gaming Survey was conducted by Kelton Research between October 27 and November 3, 2011 using an email invitation and an online survey. Quotas are set to ensure reliable and accurate representation of the total U.S. population ages 18 and over.
Results of any sample are subject to sampling variation. The magnitude of the variation is measurable and is affected by the number of interviews and the level of the percentages expressing the results.
In this particular study, the chances are 95 in 100 that a survey result does not vary, plus or minus, by more than 3.1 percentage points from the result that would be obtained if interviews had been conducted with all persons in the universe represented by the sample.
About Making Fun
Making Fun, Inc., a division of News Corporation Digital Media Group, is the first full-service social games publishing company. Making Fun blends the financial, production, technology and marketing resources of a big publisher with the passion and creativity of independent developers to deliver an innovative and diverse portfolio of games. By working with external studios across a variety of platforms — including social networks, smartphones and tablets — Making Fun is working to bring high-quality games to consumers on their preferred device. For more information about Making Fun, please visit: http://www.makingfun.com.
For press inquiries, please contact:
Sara Ball, Concept PR, sara(at)conceptpr(dot)net, 206-419-4988
###