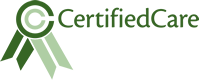 "The holidays can be an overwhelming time for your elderly loved ones too," cautions Dr. Cathleen Carr, Founder and Executive Director of CertifiedCare.
Cleveland, Ohio (PRWEB) December 08, 2011
Overwhelmed and stressed-out caregivers may view the holidays as a drain of precious energy rather than a joyous occasion. The love, peace and goodwill are replaced with stress, frustration and anger. Everything from the preparation to the actual event can be tiresome.
The holidays do not have to be this way. CertifiedCare offers some suggestions to help make the holidays more enjoyable and less stressful for caregivers. Keep in mind that the holidays can provide unique opportunities to seek better communication, connection and support from family and friends.

Talk to Family Members Before the Holidays – It is common for caregivers to be disappointed with family members who they feel are not "pulling their weight" in the caregiving responsibilities. Consider clearing the air before the holidays. If this is not a direction you want to take, perhaps resolve within yourself to put those feelings on hold, with the intention to discuss the matter after the holiday season passes. In the meantime, enjoy the holiday. After you have decided when and how much to communicate, you can release the tension of holding onto it and enjoy the festivities.
Ask for Help When Needed– Let family members know that your caregiving duties are keeping you very busy and you only have so much time and energy for holiday preparation and hosting duties. Any reasonable person will understand and hopefully offer their help.
Be Honest – It is understandable to have reservations about opening up too much and being perceived as complaining or inadequate to the task of caregiving. However, honest communication about the realities of your caregiving situation offers others the opportunity to respond with assistance or at least be in tune to what is going on. It is not all about the elder. The relationship dynamic includes the person who is doing the caregiving, too. Sharing the truth about the triumphs, trials and tribulations of your situation may help reduce some of the feelings of isolation and lack of appreciation commonly experienced by caregivers.
Give the Gift of Gratitude – After the holidays, write a short thank you note to family members or friends who spent time with your loved one. Emphasize the positive impact their visit, or brief time spent with your loved one had on them. This may reinforce positive feelings from their visit and diminish any discomfort they might have experienced. They might be more encouraged to visit again or be more supportive of your efforts.
"The holidays can be an overwhelming time for your elderly loved ones too," cautions Dr. Cathleen Carr, Founder and Executive Director of CertifiedCare. "As the caregiver, there are certain actions to make the holidays more enjoyable for them." Below are some tips on how to make them feel more comfortable and involved in the holiday festivities.
Adapt the Environment – Some elderly people, especially those with dementia, aren't able to adapt to all situations. Instead, you may need to adapt the environment to their needs. See if you can arrange to have a room in the house designated as a quiet place for your loved one away from the crowd. Many people with dementia find multiple conversations or background noise disturbing. To avoid this anxiety, your loved one may benefit from family members taking turns to visit them, therefore, keeping things quieter and calmer.
Consider Family Members Living in Institutional Environments – If your elder lives in an institutional environment have them over for dinner immediately before the holiday if possible. A private dinner with a few people often means the world to individuals in a senior living or assisted living environment. They are not allowed out of their facility often, so just an hour or two in a familiar spot helps usher in the holidays and festive spirit. Call the facility ahead of time to let them know you are coming so they can prepare your loved one for their time away.
Keep Gift Giving Simple – People with Alzheimer's disease or dementia are upset by surprises so approach gift giving with some caution. Other elders have a difficult time removing wrapping paper from a gift. If you must wrap a present, keep it very simple. A wide ribbon tied into a bow is better than tape for securing the wrapping paper.
The holidays should be a time when loved ones come together to enjoy each other's company. It should not be stressful because of the sometimes tiresome task of taking care of elderly loved ones. CertifiedCare offers these tips as relief for caregivers and hopes to make the time with family members more enjoyable during the holidays.
About CertifiedCare
CertifiedCare offers family caregivers and Personal Care Workers certification in the area of elder caregiving in "at home" and assisted living institutional environments. CertifiedCare created the first online curriculum and training program for assisted living companions that incorporate law, business, and alternative therapies, while complying with the American Medical Association (AMA) Guidelines for elder caregiving. CertifiedCare has worked with over 1,000 caregivers from all over the United States and abroad.
CertifiedCare offers three caregiver certification programs for both family caregivers and professional Personal Care Aides: Basic Caregiving, Advanced Caregiving and Alzheimer's-Dementia Specialist Certification programs. For more information on CertifiedCare and their programs, visit http://www.certifiedcare.org.
About Dr. Cathleen Carr
Dr. Cathleen Carr is the founder and executive director of CertifiedCare. She is a nationally recognized Eldercare Specialist in the areas of wills, trusts, probate, elder law and holistic health and wellness.
Dr. Carr is a published author on various topics including eldercare, natural health and green living. She is a contributing author to: Examiner.com, Radientlife, Suite101.com, Alternative Health Review, National Diet Institute, BestNaturalHealthDirectory.com, Natural Medicine Ink (editor) and eHealthScience. She also is an herbalist and naturopathic practitioner, where she specializes in therapeutic herbalism and restorative vibrational therapies.
###