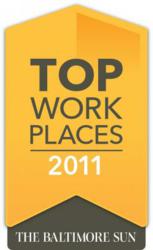 Columbia, MD (PRWEB) December 06, 2011
Today, Berkshire Associates, a human resource consulting and technology firm that assists companies in building their ideal balanced workforce, announces they have been named one of The Baltimore Sun's Top Workplaces for 2011. This award recognizes local companies for their exceptional workplace environments, employee satisfaction, and benefits.
"Berkshire believes in its employees, and we understand our success is a direct representation of their hard work and dedication," said Beth Ronnenburg, SPHR, President of Berkshire Associates. "It is our goal to provide a workplace environment that promotes worklife balance—which in turn fosters the creativity, innovation, and teamwork needed to reach our goals. Berkshire is honored to be recognized by Baltimore Sun for its efforts."
Top Workplaces leads the way in measuring the health of U.S. companies based upon employee opinions.To select the top workplaces, The Baltimore Sun partnered with WorkplaceDynamics and invited thousands of companies throughout the Baltimore region to take place in the nomination process. In the end 117 companies were surveyed, resulting in the top 75 selection.
"The WorkplaceDynamics survey asked our employees 'What do you find most motivational about working for this organization?' to which one of them replied, 'No one here is working for themselves—we are working together to make the company better, stronger, and more profitable.' That response is a true reflection of our unified commitment to teamwork and the continued success of Berkshire," said Beth.
About Berkshire Associates:
Berkshire Associates is a human resource consulting and technology firm, specializing in helping companies build the ideal, balanced workforce. As an industry leader, Berkshire provides the latest tools and services for affirmative action, applicant management, compensation management, workforce planning, diversity, and professional training. For over 25 years, Berkshire has serviced the nation's most recognizable companies; and as a result has mastered providing clients with cost-effective solutions to everyday human resource challenges.
To learn more about The Baltimore Sun's Top Workplaces, please visit http://www.baltimoresun.com/business/jobs/topworkplaces/.
This press release was distributed through PRWeb by Human Resources Marketer (HR Marketer: http://www.HRmarketer.com) on behalf of the company listed above.
###