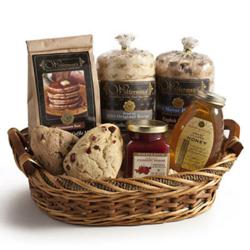 Light the candles and enjoy the selection of delicious kosher gift baskets from Harry & David.
Medford, OR (PRWEB) December 06, 2011
Harry & David, America's gift experts for over 75 years, offers a bounty of tasteful Hanukkah gifts, including fancy cheeses, fresh fruit gifts, gourmet kosher snacks, and kosher gift baskets.
Celebrate the miracle of Hanukkah by sending Harry & David's Hanukkah gifts to friends and family, such as the Kosher Breakfast Basket. This delightful gift is filled with premium kosher breakfast treats, including two varieties of fluffy Signature English muffins, dark chocolate chunk and cranberry orange scones, gourmet Oregon strawberry rhubarb conserves, and much more. Send lovely Hanukkah gifts from Harry & David to faraway friends and family or enjoy this delicious kosher gift at home. Browse dozens more of Harry & David's kosher gift baskets conveniently online.
Give the gift of a good conscience with healthy, all-natural foods and wholesome Hanukkah gifts. Light the candles and enjoy the vast selection of delicious kosher gift baskets. The classic Original Kosher Gift Basket contains a pleasant mixture of decadent and healthy snacks that is guaranteed to please anyone. This elegant wicker basket is overflowing with some of Harry & David's most famous items, such as juicy Royal Riviera® Pears, orchard-fresh apples, deluxe caramelized nuts, yummy chocolate-covered fruits, and more! Celebrate the eight days of Hanukkah with quality and variety. Nibble on something new every day with a bountiful selection of Hanukkah gifts.
Reflect and reconnect with dear friends and family with Harry & David's fresh fruit and other amazing Hanukkah gifts. The Original Northwest Gift Basket is packed with ripe, beautiful fruits from Harry & David's exclusive Oregon orchard. Send a taste of the Pacific Northwest by enjoying world-famous pears and apples, white extra-sharp cheddar cheese, deluxe mixed nuts, and more. Each basket comes with a decorative cotton towel to turn this kosher gift basket into a Hanukkah centerpiece. Treat friends and family with gourmet Hanukkah gifts and goodies from Harry & David, including many kosher gift baskets.
Get friends and family into the spirit of Hanukkah this holiday by giving them the Hanukkah gift that keeps on giving -- a subscription to Harry & David's wonderful Fruit-of-the-Month Club®. Parents and children alike will appreciate Harry & David's sweet, luscious boxes of natural fruit delivered to their door each month. Grown and selected by experts and shipped direct from the field, these fruits will arrive fresher, tastier and more nutritious than fruit available locally. Chat and reminisce with loved ones this Hanukkah with delicious fruits and kosher gift baskets.
Looking to spoil loved ones over the eight days of Hanukkah? Surprise them with the ultimate gift –the ever-popular Deluxe Tower of Treats® Gift! This kosher gift basket contains an enormous assortment of sweet, salty, decadent, and savory goods. This gift basket includes Harry & David's famous Moose Munch® popcorn, fancy raspberry galettes, baklavas, assorted truffles, smoked salmon, signature pears, and much more. Shop for quality Hanukkah gifts at reasonable prices online with Harry & David.
Remember to order all Hanukkah gifts and kosher gift baskets before the shipping cut-off dates to ensure their timely arrival. The last day to order Hanukkah gifts using regular shipping is December 13th; the last day for 3-day express is December 15th; the last day for 2-day express is December 16th; and the last day for next day delivery is December 19th before 10am PST.
All orders are backed by a 100% guarantee. If those who receive Harry & David's Hanukkah gifts are not fully satisfied, we will provide either an appropriate replacement or a full refund. Visit http://www.harryanddavid.com for more information.
For the latest holiday updates and news from Harry & David, join our Facebook fan page, http://www.facebook.com/HarryandDavid, or follow us on Twitter, http://twitter.com/harryanddavid.
About Harry & David
With a 75-year reputation for genuine farm-to-table freshness and unsurpassed artisanal quality, Harry & David is legendary for exclusive gifts such as the Fruit-of-the-Month Club® collection, featuring top-quality fruit, pampered on the tree, picked at its peak; Royal Riviera® Pears, prized for their lush juiciness, melting texture and exquisite flavor, many of which are grown in Harry & David's Rogue Valley, Oregon pear orchards which are at the heart of the company's success; Oregold® Peaches, some of the biggest, juiciest, sweetest-tasting peaches in the world; and Moose Munch® gourmet snacks, most of which are made exclusively in our own confectionery, in flavors for everyone - some with nuts, some sweet, and some savory. The Harry and David catalog offers a wide variety of gift baskets, fresh fruit gifts, gift towers & boxes, chocolate gifts and business gifts for every occasion. Gifts from Harry & David, and its brands Cushman's and Wolferman's, are designed for festive occasions, entertaining and self enjoyment throughout the year. Through its stores, catalogs and website, Harry & David offers an affordable "best-of-class" experience as part of everyday life. Happiness Delivered! Harry & David is a dba of Harry and David. http://www.harryanddavid.com
###