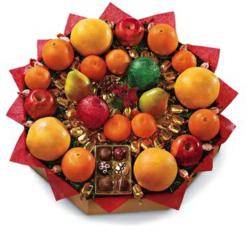 With Cushman's Christmas gifts, this Christmas will surely be one to remember forever.
Medford, Oregon (PRWEB) December 07, 2011
Cushman's, America's citrus gift experts for over 60 years, celebrates the holidays with tangy yet sweet citrus Christmas gifts, including Cushman's signature Honeybell oranges, ruby red grapefruit and more.
Cushman's offers delicious Christmas gifts, including the most limited edition fruit in the world –Honeybell citrus, including Honeybell oranges. Kids and adults alike will appreciate the delightful Family Sized Holiday Drum. It is packed to the brim with festive assortment of Cushman's juicy premium fruit. This gift also includes a wealth of sweet goodies: delicious cookies and hard candies, orange marmalade and assorted truffles. Charming as can be, this gift is sturdy enough to reuse once their luscious contents have been happily consumed. With Cushman's Christmas gifts, this Christmas will surely be one to remember forever.
Christmas is the time to reminisce and celebrate fond moments with loved ones, even from far away. Family and friends are sure to love Christmas gifts from Cushman's, including the Grand Fruit Wreath gift. It is a beautiful joy to behold' but each is an even better treat to eat! All of these delicious fruits include Honeybell oranges and are artfully arranged in a pretty, old fashioned holiday wreath. This festive citrus gift comes with plenty of fun candies and finest fruit, such as navel oranges, Crown Ruby Red grapefruit, Royal Tiara tangerines and crisp apples. No wonder thousands of customers say that Cushman's Christmas gifts are irresistible!
Looking for a centerpiece for the dining room table or a juicy snack to share while chatting in front of the fireplace? The Christmas Tree Under the Tree is one of Cushman's many unique Christmas gifts. Take a picture as soon as it arrives, because the succulent, seedless Honeybell oranges, rare Royal Tiara Tangerines, and juicy-sweet Cushman's® Crown Ruby Red Grapefruit won't last long! Under the "tree" they'll discover other treats, including chocolate truffles, key lime cookies, a sprinkling of juicy HoneyBell Candies, and more! Shop Cushman's for thoughtful Christmas gifts for the whole family.
Shop for delightful Christmas gifts at Cushman's and send Christmas cheer from far away. The Big, Bigger, Best Tower is a sensational tower of nine delectable gourmet gifts. It is Cushman's grandest tower and is packed with sweet ripe citrus, key lime cookies, chocolate covered cherries, dark chocolate-covered coconut patties, and much more. Find the perfect blend of healthy fruit and indulgent treats with Christmas gifts from Cushman's!
Remember to order all Christmas gifts and Honeybell® oranges before the shipping cut-off dates to ensure timely arrival. The last day to order using regular shipping is December 13th; the last day for 3-day express is December 20th; the last day for 2-day express is December 21st ; and the last day for next day delivery is December 22nd before 10am PST.
All orders are backed by a 100% guarantee. If those who receive Cushman's Christmas gifts are not fully satisfied, Cushman's will provide either an appropriate replacement or a full refund. Visit http://www.honeybell.com for more information.
About Cushman's Fruit Company
Founded in 1945 and headquartered in West Palm Beach, Florida, Cushman's Fruit Company is a multi-channel marketer of specialty foods, primarily citrus, from Florida's premium groves and the finest farms and orchards across America. The company is best known for its Cushman's HoneyBells® citrus, a rare natural hybrid of Dancy Tangerine and Duncan Grapefruit, and the World's Only Limited Edition Fruit®, as well as its citrus fruit offerings year-round. Today, Cushman's Fruit Company sells its products primarily through its catalog and http://www.honeybell.com, as well as through foodservice and retail channels. Cushman's Fruit Company is a Harry & David company which includes the Wolferman's brand.
(Harry & David and Cushman's Fruit Company are DBAs of Harry and David.)
###