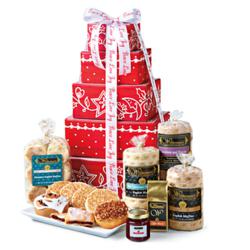 Make Christmas brunch memorable with gourmet Christmas gifts from Wolferman's.
Medford, Oregon (PRWEB) December 08, 2011
December 8, 2011 – Wolferman's, proud purveyor of specialty foods for over 100 years, provides Christmas gifts for 2011, plentifully packed with Christmas morning staples, including pastries, breads, and fruit, all in delightful breakfast gift baskets.
Make Christmas brunch memorable with gourmet Christmas gifts from Wolferman's. Celebrate the most wonderful time of the year with Wolferman's Grand Christmas Gift Tower. This tasty tower includes five different varieties of signature and traditional English muffins, classic crumpets, banana walnut tea bread, and more. This gift of holiday delights is sure to make everyone's eyes light up!
Deliver holiday cheer with Wolferman's Christmas gifts, packed with the best bakery treats of the season. The Joyful Tidings Gift Towers has enough breakfast treats to feed Santa and all his reindeer. Indulge in classic English muffins, raspberry kringle, nutty sticky buns, Tiffin coffee and more. Treats come packed in festive red gift boxes that can be reused for holiday seasons to come. Share this gift with family, friends and Rudolph, too.
Have a holly, jolly Christmas this year with good food and great company. Send loved ones wintertime Christmas gifts from Wolferman's, such as the Christmas Snowglobe Gift Box. This festive holiday box bursts with holiday cheer in the form of breakfast treats. Feast on cinnamon chip and wild Maine blueberry English muffins, raspberry kringle and strawberry preserves. Looking for a gift that keeps on giving? Try Wolferman's three, six or twelve-month Breakfast Clubs. Treat friends and family to a different breakfast goody each month, including Wolferman's signature breakfast gift baskets. Nothing says "Merry Christmas" quite like these memorable Christmas gifts.
Remember to order all Christmas gifts and breakfast gift baskets before the shipping cut-off dates to ensure timely arrival. The last day to order Christmas gifts using regular shipping is December 18th; the last day for 3-day express is December 20th; the last day for 2-day express is December 21st, and the last day for next day delivery is December 22nd.
All orders are backed by a 100% guarantee. If those who receive Wolferman's Christmas gifts are not fully satisfied, Wolferman's will provide either an appropriate replacement or a full refund. Visit http://www.wolfermans.com for more information.
About Wolferman's
Founded in 1888, Wolferman's is a direct marketer and wholesaler of premium specialty foods and gifts, such as English muffins, tea breads, breakfast pastries, jams and other specialty products. The Wolferman's® catalog also includes a wide variety of gift baskets, gourmet breakfast gifts, gourmet pastries and honey and fruit spreads for every occasion. The Wolferman's® specialty English muffins include the 1910 original recipe, multi-grain & honey, chocolate chip, pumpkin spice and more. The Company started making its signature Wolferman's® English muffins in 1910 and, today, sells its products primarily through its catalog and http://www.wolfermans.com, as well as through foodservice and retail channels. Wolferman's is a Harry & David company which includes the Cushman's brand.
(Harry & David and Wolferman's are DBAs of Harry and David.)
###