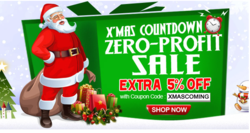 HongKong (PRWEB) December 06, 2011
Everyone loves to wake up and find exciting gifts and treats stuffed in their Christmas socks. DinoDirect is giving all consumers the chance to find the ideal gifts for their loved ones as the clock counts down to Christmas.
"Join the Grand Christmas Countdown; let DinoDirect lead you into our Biggest X'mas Sale Ever! The year's collections of high quality products are being updated here every week." The store's manager spoke about the countdown sale.
Shoppers are now searching for the ideal Christmas Presents for their loved ones. The online retailer is aware that consumers are looking for desirable gifts at affordable prices and that is why they have placed their top products on sale. From trendy clothes to high-tech electronic gadgets; the store has a selection of ideal gifts to choose from.
The Android Tablet remains amongst the top list of gifts for most consumers, and the store is offering their collections of Tablets on sale. The reason why these devices have maintained global popularity is because they could be considered as part of the 'Green Campaign.' They eliminate the need for paper usage in learning institutions and the work place. These devices have also been able to revolutionize how people access entertainment and carry on with their work while on the go.
RC helicopters and stuffed animals are also some of the popular gift choices which are up for sale during DinoDirect's Christmas countdown promotion. Contrary to popular belief, stuffed toys are not only ideal gifts for children but they are the perfect gifts for vehicle owners who want to personalize their cars. Radio controlled toys on the other hand are ideal for everyone; they give the young at heart an opportunity to rekindle their childhood. The store has a diverse range of other ideal gifts for children as the store manager explains, "Christmas is the time to enjoy fun and happiness, and we know it! We have thousands of Christmas gifts for toys and hobbies. Have a good look around; find the best inspirational ideas for ideal Christmas Gifts."
The online store has also placed their diverse selection of products on sale including home and garden products, sporting goods, cell phones, cameras and other electronic products.
Consumers have the opportunity to stock up on the store's selection of men's and women's winter clothes in readiness for the chilly weather that accompanies this festive season.
Consumers will benefit greatly from DinoDirect's Christmas countdown sale, because this is the time to buy Christmas gifts at affordable prices. Consumers who take advantage of the sale on the 5th of December are entitled to an extra 5% discount coupon code.
###