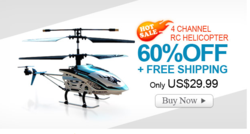 Hong Kong, China (PRWEB) December 09, 2011
The tradition of gift giving has been maintained for as long as Christmas has been celebrated. What has changed is the selection of electronic gifts available in the market, which are ideal Christmas gifts. RC helicopters are currently amongst the popular Christmas gift choices for both adults and children.
There are different models and brands of radio control helicopters available out there, and consumers always find it quite challenging to select the right one to gift to their loved ones. The store's manager explained, "We have different brands of wireless RC helicopters, such as Mestery, Walkera, E-sky and so on." The online retailer wants to make sure that consumers buy the right radio controlled toy as a gift for their loved ones.
Price is usually the main determining factor when shopping for any product. Like with all other products in general, the price of the RC helicopter is directly equivalent to its quality. Consumers are likely to go for the cheaper option, which ends up being an expense in the long run. DinoDirect has made sure that consumers are able to afford these devices by offering them at cost reduced prices.
The radio control helicopter models available from the online store are designed specifically for use by either adults or children. The store has stocked up on the mini radio controlled toys, which are ideal for children and beginners. The mini radio controlled toys are also comparatively affordable compared to their large sized counterparts. The mini toys are ideal for consumers searching for flying devices which can be flown. The mini flying devices are also ideal for beginners, because they are easy to operate and ideal for practice before moving on to the large sized radio controlled helicopters.
The store has also factored into consideration the nature of the different people who buy these devices; the controlled flying devices are popular with hobbyist and recreational users. Hobbyists will appreciate the store's radio control toy kits which allow them to assemble the flying toys. However, those who use the radio controlled devices for recreation will be better off with the pre-assembled models.
DinoDirect also stocks collections of wireless, fixed wing, rechargeable and two to four channel rc helicopter models, which consumers can choose to buy as Christmas presents for loved ones. The retailer understands that durability and functionality are other important aspects that consumers consider when shopping for these devices. The store offers plastic-made radio controlled toys which are ideal for children; who are prone to damage the devices quickly.
DinoDirect is offering their wide selection of radio control helicopters at discounted prices during this festive season.
###