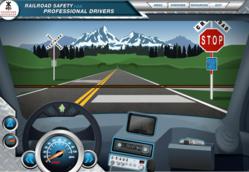 Our goal as we launch this new safety program is to ensure every CDL driver has the information they need to safely cross a highway-rail grade crossing, every single time.
Minneapolis, MN (PRWEB) December 06, 2011
Allen Interactions, an internationally-acclaimed custom learning design, development and strategic consulting firm, and Operation Lifesaver, a national, non-profit safety education group, won a coveted Gold Brandon Hall Award for Best Custom Content.
The award-winning e-learning course, Railroad Safety for Professional Drivers e-Learning Challenge, recently featured in USA Today, is an innovative multimedia e-learning experience. Prior to the release of this e-learning course, Operation Lifesaver delivered only in-person railroad safety training to professional truck drivers. Each year, this presentation-based program reached less than one percent of the 3.2 million tractor- trailer drivers across the United States. As of June 2011, 15,000 truck drivers have taken the e-learning challenge, with the hopes that 100,000 drivers will complete the e-learning challenge by year-end.
This 15-minute interactive course gives drivers nationwide the opportunity to experience real-life driving situations at railroad crossings. The challenge provides a simulated driving environment and allows learners to work independently while exposing them to worst-case scenarios, requiring quick thinking and critical decision-making skills.
Over the course of nine unique railroad crossings, drivers will be called upon to make decisions similar to the ones required during a regular trip, but from the safety of their computers without any consequences to their lives or the loads they carry.
This wide variety of interactive exercises allows learners to:

analyze and make the correct decisions on real-life situations drivers encounter at railroad crossings
identify and take actions based on the meaning of signs and signals at highway-rail grade crossings
recognize and respond appropriately to potential dangers, and
take correct safety measures if outside the truck while near a railroad crossing.
"Our goal as we launch this new safety program is to ensure every CDL driver has the information they need to safely cross a highway-rail grade crossing, every single time," stated Helen M. Sramek, president, Operation Lifesaver, Inc.
"The power of this course is its design – embracing Allen Interactions' CCAF Methodology of having a strong Context –what a truck driver would see every day through his or her windshield – as well as providing a Challenge of getting into the 'Haul' of Fame, Activities to engage the learner over 3 different trips at various crossings, and Feedback, both immediate and delayed," stated Linda Rening, Ph.D., studio executive at Allen Interactions. "This recognition exemplifies Allen Interactions' commitment to performance-changing interactive learning solutions and Operation Lifesaver's commitment to improving safety for truck drivers at railroad crossings; it was great to collaborate with them," added Lisa Stortz, strategic relationship manager at Allen Interactions.
The Brandon Hall Excellence in Learning Awards is presented annually by Brandon Hall Research, one of the leading research firms in training and development. Now in its seventeenth year, the awards program showcases exceptional work in learning & development.
"This year's winning entries were the best of the best. We are proud to recognize the award winners who have greatly improved the performance of their organization and have shown clear, measurable business results through these innovative programs," said Mike Cooke, Chief Executive Officer of Brandon Hall Group, Inc.
About Allen Interactions
Allen Interactions is an internationally-acclaimed company focused on improving performance through powerful learning experiences. Since 1993, we have designed and developed custom e-learning and blended learning solutions addressing many different content areas for varying audiences (employees, channel partners, and customers) for many leading organizations. With multiple locations in the U.S., we have deep experience and expertise in instructional design, technology, creativity, process, and project management that allows us to create learning solutions that consistently result in positive business impact.
In addition to our service offerings, in 2011, Allen Interactions launched a revolutionary authoring and publishing platform, ZebraZapps, which allows developers and non-programmers to create rich interactive media applications easily and quickly, as well as share, publish, and sell objects or entire applications. To learn more visit: http://www.alleninteractions.com.
About Brandon Hall
With more than 10,000 clients globally and 20 years of delivering world class solutions, Brandon Hall Group is the preeminent research and analyst organization focused on developing research driven solutions to drive organizational performance for emerging and large organizations. Brandon Hall Group has an extensive repository of thought leadership, research, data and expertise in Talent Management, Learning & Development, Executive Management, Sales and Marketing. To learn more visit: http://www.brandon-hall.com.
###