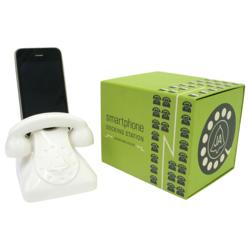 Sacramento, CA (PRWEB) December 06, 2011
Lumens.com is highlighting its picks for $50 and under holiday suggestions for modern gifts, from top brands like Areaware, Alessi, Blomus and more. The Lumens.com Holiday Gift Guide offers more than 200 unique and modern gift ideas priced at $50 and under, including great stocking stuffers for $20 and under.
Some of the favorite modern gifts at Lumens.com priced between $20 and $50 include:
Clocky Alarm Clock by Nanda Home: The holiday favorite is the perfect gift for those who struggle with waking up in the morning. Clocky gives you one chance to get up, but hitting the snooze button sends him wheeling around the room for a place to hide until you throw back the covers to shut him off. From $39.
Smart Phone Dock by Jonathan Adler: This charging dock gives a cheeky nod to the clunky phones of yore, in true Jonathan Adler style. The porcelain dock cradles modern-day cell phones for charging. $48.
Distortion Candlestick by Paul Loebach for Areaware: Traditional candlestick form, distorted with a 3D rendering program. Exceedingly durable in resin and marble, with five color choices. $24
Fishhotel Fish Bowl by Umbra: For the contemporary fish lover, this square fish bowl features a modernist design, with a removable inner bowl for easy cleaning. $29.95
Wine Breather Carafe by Menu: Menu offers several modern gifts for wine enthusiasts, including this carafe that aerates wine in less than two minutes, connecting directly to the bottle. Designed by Norm Architects. $50
Satellite Bowl by MoMA: Dramatically decorative and useful, the Satellite Bowl features lacquered wooden spoked pinned together and twisted open for high visual impact. Designed by Carlo Contin. $48
Alarm Dock by Jonas Damon for Areaware: This wood dock holds an iPhone or iPod touch and runs a flip clock app, transforming the piece into the iconic faux wood grain flip clocks of bygone eras. $39.50.
FARO New Set of 3 Tealight holders by Blomus: These luminious candle holders feature a sleek and contemporary stainless steel base and clear glass shades. $31.40.
Lumens.com is also a great place to find unique stocking stuffers for everyone on your list. Favorite small modern gifts priced at $25 and under include:
Teo Tea Bag Spoon by Alessi: After tea has been steeped, this handy spoon helps to remove the string and bag without losing it to your cup. Designed by Karin Santorso of LUCY.D Studio $25
Unitool by Joseph Joseph: For the culinary genius on your list, the Unitool is five kitchen utensils in one: a slotted spoon, turner, cutting edge, solid spoon and a spatula. $9
PS Yo-Yo by Playsam: The perfect gift for adults and children alike. The minimal form and high luster surface of the Playsam PS Yo-Yo add elements of sleek sophistication to the traditional children's toy. $12
GENTS Flip Business Card Case: The Blomus GENTS Flip Business Card Case protects business cards from damage while adding a smart, contemporary note to business networking events. $15.47
Moustache Bottlestopper by Jonathan Adler: The Jonathan Adler Moustache Bottlestopper, made of porcelain, celebrates this facial fad and adds a smirk to dinner parties and celebrations. $18
Bottle Opener by Brendan Ravenhill by Areaware: A curved nail at the end of a piece of beech or walnut comprises the simple yet effective design for removing bottlecaps with ease. $20
Nest iPad Stand by BlueLounge: The BlueLounge Nest iPad Stand is a simple design with a multitude of uses. The rubber-lined container organizes small objects and also provides a non-slip surface for an iPad. A hidden slider cradle also allows for vertical positioning. $15
In addition to these under $50 gifts, Lumens.com has hand-picked modern gifts for him, gifts for her, top-selling gifts, gifts for entertaining and gifts for wine enthusiasts. The Lumens Holiday Gift Guide contains more than 500 unique items for holiday shopping.
In addition to these gift picks, Lumens.com also offers:
-Free shipping on orders of $50 or more (exclusions do apply)
-Low-price guarantee
-Expert service via our customer service center
-Easy, no-hassle returns
-Volume order discounts
-More than 300 manufacturers from all over the globe, offering everything from contemporary lighting to transitional fixtures and modern furnishings, gifts and home accessories.
For additional information on the Lumens.com new gifts and the Lumens.com holiday Gift Guide, contact Sarah Schaale or visit lumens.com.
About Lumens Light + Living:
Lumens Light + Living is dedicated to offering the very best of design-oriented lighting, fans and home accessories, from the most contemporary lighting from international designers to modern interpretations of classic design.
Contact:
Sarah Schaale, Assistant Marketing Manager
Lumens Light + Living
916-444-5885
http://www.lumens.com
# # #