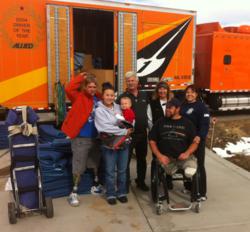 Chicago, Illinois (PRWEB) December 07, 2011
For some people, the war in Iraq means simply words in a headline. But for newly returning veterans, the tragedy of war is part of their daily reality.
For Allied Van Lines Owner/Operator Mike Westfall and his wife Ricki, it wasn't enough to just watch injured veterans come home from war; he felt compelled to do something about it. After their veteran son-in-law returned from Iraq with a buddy who lost his legs, the Westfalls got involved with Homes for Our Troops, an organization that helps build houses for severely injured soldiers. While the homes are built entirely through donations, the cost of a move can be an added burden to families who are already juggling financial pressures.
That's where Bailey's Moving and Storage, based in Englewood, Colo., comes into the picture. Without any way to get their belongings from their current living situation to their new house, veterans and their families can face quite a struggle. "We moved someone last week who lost both his legs, and they made the house wide enough with automatic doors so he can get around and function," Mike explains. "Homes for Our Troops builds the homes, and we just come in behind them and move the veterans in. We're moving about three of them a year now. We plan to continue this service as long as we can."
When asked what he would want to convey to others about Homes for Our Troops, Mike is filled with compassion as a disabled veteran himself. "They return home to the U.S. and although they might get a little stipend, Homes for Our Troops is building homes and trying to help them – but it's only done with money and support," he states. "They accept donations, but also appreciate volunteer time. I've seen people landscaping and some just come to help them unpack. I think that when you give of yourself, it just comes back twofold."
The Westfalls' work does not go unnoticed. "We're so grateful as a company to have Mike and Ricki as part of the Allied Van Lines team -- finding meaningful ways to give back to our communities, as well as our servicemen and women who've sacrificed so much for our nation's freedom," says a proud Kevin Beckstead, president of Bailey's Moving and Storage. "Mike and Ricki's service with Homes for Our Troops fits with our corporate philosophy of trying to give back to our communities. They are an example to many people who want to help. They found a genuine need, and a way to fill it. They are an example to us all."
About Homes for Troops
Homes for Our Troops (http://www.homesforourtroops.org) is based in Taunton, Mass., and was founded by John S. Gonsalves in 2004. Homes for Our Troops' mission is to build specially adapted homes for service members who have been severely injured in combat operations since Sept. 11, 2001. All homes are built at no cost to the veteran through the generous support of individuals, foundations, and corporate contributors.
About Bailey's Moving & Storage
Locally owned and operated, Bailey's Moving & Storage was founded in 1952 and is headquartered in Englewood, Colo. Today, it is a multi-million dollar enterprise with multiple locations throughout Colorado and Utah, including Denver and Salt Lake City. It specializes in short- and long-term storage solutions, as well as intrastate, interstate and international relocation for residential and corporate customers. As an interstate agent for Allied Van Lines Inc., Bailey's is part of an extensive network of locally owned moving companies in the U.S. and the world. For more info, visit the website at http://www.baileysallied.com.
About Allied Van Lines
Established in 1928, Allied Van Lines, with more than 400 agent locations in North America, is an experienced leader in household goods moving and specialized transportation services. Allied is one of the world's largest moving companies and one of the established global brands of SIRVA Inc., a leader in providing relocation services to corporations, consumers and governments around the world. For more information about Allied Van Lines, visit http://www.allied.com.
About SIRVA Inc.
SIRVA Inc. is a leading provider of relocation solutions to a well-established and diverse customer base around the world. The Company handles all aspects of relocation, including home purchase and home sale services, household goods moving, mortgage services, and home closing and settlement services. SIRVA conducts more than 300,000 relocations per year, transferring corporate and government employees in addition to individual consumers. SIRVA's well-recognized brands include Allied, Allied International, Allied Pickfords, Allied Special Products, DJK Residential, Global, northAmerican, northAmerican International, SIRVA Mortgage, SIRVA Move Management, SIRVA Relocation and SIRVA Settlement. More information about SIRVA can be found on the Company's Web site at http://www.sirva.com.
###