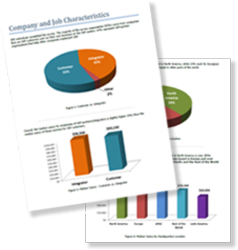 Amidst financial woes, salaries of European SAP professionals lag behind US peers.
Menlo Park, CA (PRWEB) December 07, 2011
Salary increases were less common and less generous for SAP Professionals in Europe compared to the rest of the world. This is one of the findings in a new salary survey just released. The survey results, published by Panaya Inc. for the third year now, are based on over 800 responses collected from SAP customers and systems integrators worldwide through an online questionnaire during the November of 2011.
The survey shows that salary increases in Europe were less common than in the rest of the world. Only 57% of the survey respondents working in Europe and saw their salaries increase in 2011, compared with 61% of those working for companies based in North America, 66% in Asia and the Pacific (APAC), 67% in Latin America, and 76% in the rest of the world.
Salary increases in Europe were also typically lower than those reported in other parts of the world. Only 8% of the European respondents received an increase higher than 10%, compared to 11% in North America, 21% in Latin America, and 22% in APAC.
While survey results from past years indicated large portions of the respondents were asked to take on additional responsibilities and do more with less, these trends have become less prevalent according to this year's survey. Instead, the two job changes in 2011 most commonly noted by survey respondents were tighter budgets (55%) and more competition (48%).
Survey results indicate that median salaries are the highest for SAP professionals working in the aerospace & defense, professional services, healthcare, and financial services sectors, while the lowest medians are found in public sector & education, retail, and communications.
The results also demonstrate that higher education corresponds with higher earnings for SAP professionals. The median salary for respondents with a Master's degree is 18% higher than the median salary for those with a high school diploma, while respondents with a doctoral degree earn as much as 53% more than those with no college degree.
"The earnings of SAP Professionals depend on many variables, including the industry they are in, education level, and experience," said Amit Bendov, Panaya's Chief Marketing Officer. "This survey should help these professionals compare their compensation to industry peers and get an insight into what drives compensation and how to increase their value in this market."
The complete survey results can be downloaded at http://go.panayainc.com/2012-SAP-Salary-Survey.html?Source=701200000004Nkw.
About Panaya
Panaya's software-as-a-service helps companies that use SAP or Oracle reduce 80% of their ERP upgrade and testing risk and effort. Utilizing a cloud-based supercomputer, Panaya simulates the upcoming upgrade, automatically pinpointing which custom programs will break as a result of the upgrade and automatically fixing most of these problems.
Panaya's testing solutions dramatically expedite ERP testing and eliminate the need for manual test script maintenance. Seamlessly capturing business knowledge in the background, as users work with the ERP applications, Panaya automatically generates plain-English test scripts that are rapidly executed and continually self-adjust based on test results.
For further information visit the Panaya web site at http://www.panayainc.com.
This report is provided by Panaya Inc. It is completely independent of and not affiliated with SAP AG. SAP is a registered trademark of SAP AG.
SAP and other SAP products and services mentioned herein as well as their respective logos are trademarks or registered trademarks of SAP AG in Germany and in several other countries.
###