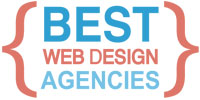 bestwebdesignagencies.com Names the Best Web Design Agencies for December 2011
(PRWEB) December 06, 2011
The independent authority on web design agencies, bestwebdesignagencies.com, has released their list of the best web design agencies for the month of December 2011. The list of the best includes companies who have a history of offering creative design services which provide their customers with a custom website design which offers a professional influence. The evaluation of web design companies involves the use of a set of evaluation criteria based on the five most influential aspects of web design services which determine success and professionalism for customers of web design services. Each top web design firm is tested and evaluating using specified guidelines including connecting with the customers of web design companies.
The Top 30 Web Design Companies for December 2011 are:
1. MatchBox Branding
2. Web312
3. White Media
4. Customer Magnetism
5. Hudson Horizons
6. OneIMS
7. DeepBlue
8. RazorIT LLC
9. Dotlogics
10. Moonstone Interactive, Inc.
11. 61designstreet
12. CIplex
13. 3 Roads Media
14. 123triad.net
15. 1SEO.com
16. The Berndt Group
17. 2r creative
18. Holbi.co.uk
19. 561 Media
20. 2 Fish Group
21. Studio 7 Designs Inc.
22. 70plus2 creative design
23. HypeLife Brands
24. 352 Media Group
25. EffectiveUI
26. 809 Design Studio
27. 118id
28. Pear Logic, LLC
29. Oxygen Productions
30. Ace Website Design
In addition to the set of evaluation criteria used, each company is scrutinized through the input obtained from their customer references, an evaluation of their business practices and proprietary advantages, and their overall portfolio of work. Each web design company has been put to the test in order to create a list of the best which most accurately depicts the top performing professional web design agencies in the industry.
ABOUT bestwebdesignagencies.com
bestwebdesignagencies.com is an independent research firm with a dedication to providing a list of the best web design companies and web development firms in the industry. Through meticulous research and developed methods for evaluating and ranking companies, bestwebdesignagencies.com has provided customers of web design and development services with a great resource to find a top performing web design company. Evaluations are carried out by a specialized team of researchers who examine thousands of applicants each month. bestwebdesignagencies.com provides their rankings free of charge to companies and individuals searching for a quality web design firm or looking for other design and development services with updates being provided on the first of each month. The website also provides information and resources for those looking to learn more about web design and development services.
Web Design Companies interested in applying for the evaluation and ranking services can visit:
http://www.bestwebdesignagencies.com/rankings/web-design-agencies/apply-for-ranking
To learn more about the Best Web Design Companies for December 2011 visit:
http://www.bestwebdesignagencies.com/rankings-of-best-web-design-companies
###