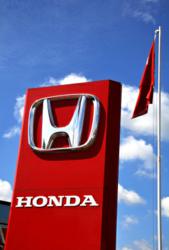 Houston, TX (PRWEB) December 06, 2011
Honda Motor Co. has announced it will begin sales of the N BOX, the first model of the new mini-vehicle N Series, on December 16, 2011. Although it's not known exactly when the N BOX might be finding its way to the States, at Russell & Smith Honda in Houston, Texas they're foreseeing a promising future for the newest minivan. Their inventory is currently stocked with everything from the new Honda Accord in Houston and any other great model of new Honda in Houston or even a used Honda in Houston to choose from available now for the car-buying public.
Honda created the N Series to be the best new vehicle in Japan. It's newly-designed platform and powertrain were adopted for the N Series models. Honda, whose experience producing minivans has seen great success, has developed the N BOX with the purpose of creating a true minivan or a minivan mini-vehicle.
In Honda's continuous strive for innovation, the N BOX features one of the largest interiors among all mini-vehicles currently on the market. Honda has always embraced the man maximum/machine minimum concept, which is the basis for Honda's auto design of maximizing the available space for passengers and minimizing the space needed for mechanical parts. This was accomplished through a combination of a long cabin length and the shortest engine room length among all mini-vehicles on the market, giving it a spacious, comfortable, and easy to use seating arrangement. In addition, the newly designed suspension has significantly improved driving comfort.
The newly-developed DOHC engine and CVT transmission has enabled the N BOX to be able to achieve both stellar driving and excellent fuel efficiency as well. With the adoption of the idle stop mechanism, it's attained top fuel economy in its class. Compared to conventional Honda mini-vehicles, N BOX's stability during driving was improved due to the long wheelbase.
It's also got some great standard safety features such as the VSA (Vehicle Stability Assist) system and HSA (Hill Start Assist) system that temporarily prevents the vehicle from rolling backward when starting on an upward incline, along with a driver's side i-SRS airbag system and SRS airbag system for front passengers. The installation of side-view mirrors helping to eliminate blind spots around the left-front and left-rear wheels and a lower rear make it easier to pull up close to objects on the side or to park.
And here's the kicker: More than 90 percent of the entire vehicle is recyclable. With innovative engineering and technology like this, Honda's hard to beat.
First in Results SEO Marketing
###