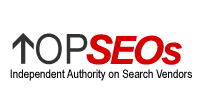 Netmark.com Named #1 Search Engine Optimization Company by topseos.com for December 2011
(PRWEB) December 06, 2011
topseos.com, the independent authority on Search vendors, has named Netmark.com as the best search engine optimization company through their process of evaluating and ranking the best online marketing companies in the month of December 2011. This list of the best SEO companies is the result of an extensive evaluation measuring the strengths and weaknesses, if any, of the best online marketing companies who offer a dedicated SEO service to their customers. Evaluations are conducted by an independent team of research analysts with the goal of identifying the best SEO agencies and comparing them using a set of evaluation criteria.
The SEO services offered by Netmark.com have been named by topseos.com to be deserving of the reward of being the number one SEO company in the monthly rankings. This decision is based on the meticulous evaluation of online marketing companies which involves areas of evaluation including on page optimization, off page optimization, keyword analysis, needs analysis, and reporting methods. These five areas are used to differentiate the companies on the rankings but are not the sole differentiators during the evaluation. Research analysts also discuss areas ranging from the business practices and industry initiatives by each of the evaluating SEO companies to their customer feedback received from the references provided to topseos.com.
Netmark.com has been compared against other online marketing companies who claim to offer a world-class service. Based on these comparisons, Netmark.com has been found to offer a highly competitive SEO service which greatly benefits their customers looking to achieve rankings for competitive keywords which can improve their online marketing initiatives all around. While Netmark.com is being ranked for their search engine optimization services, they also offer award-winning conversion optimization, pay per click management, and link building services along with other online marketing services which they provide.
topseos.com connected with customer references for each SEO agency included in the evaluation. The customer references for Netmark.com provided topseos.com with a unique perspective of the online marketing services in general and the SEO service which Netmark.com provides to their customers. Clients of Netmark.com provided positive feedback on the support and communication procedures set in place and the types of reports and consultation provided to their customers. They also indicated a strong improvement in their ROI and decreased CPCs which directly benefit their customers' growth in online marketing.
Through this extensive research and evaluation, topseos.com is confident in the search engine optimization services which Netmark.com provides to their customers. There is a strong understanding of what their customers need and how to set realistic goals which they can consistently achieve while also remaining competitive in the industry. Based on this research, topseos.com believes that those looking for solid and competitive SEO services should consider Netmark.com for their online marketing initiatives.
ABOUT topseos.com
topseos.com is a well-known independent authority on Search vendors. Established in 2002, the goal of topseos.com is to recognize and rank those individuals or companies providing the best online marketing services all over the world. A specialized team of researchers examine thousands of applicants each month who are seeking to be ranked as a top internet marketing service provider by the independent authority. This website is being visited daily by thousands of visitors all over the world looking for the best services available. The website also provides various types of facilities other than the independent rankings which provide useful information to customers and providers of online marketing services.
To learn more about the service providers which offer the Best Search Engine Optimization services visit:
http://www.topseos.com/rankings-of-best-seo-companies
To learn more about the top performing SEO agency Netmark.com visit:
###