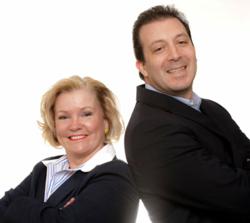 Atlanta, GA (PRWEB) December 06, 2011
The Pedowitz Group, an award winning revenue marketing agency, celebrates two top executives being named to SLMA's Top 50 Most Influential in Sales Lead Management in 2011. Jeff Pedowitz, CEO, was named the Second Most Influential in Sales Lead Management in 2011. His business partner, Debbie Qaqish, Chief Revenue Marketing Officer, was voted #10.
Sponsored by the Sales Lead Management Association (SLMA), this prestigious industry award is earned by individuals with proven ability to generate significant revenue for their companies and clients by effectively managing sales leads. Winners are selected based on the largest number of votes from their peers. This year's 7,113 votes represent a 22% growth over 2010.
"This list is comprised of some of my most valued partners, worthy competitors, and trusted friends, to be recognized in this way is extremely gratifying," said Jeff. "Debbie's high ranking on this list is very well-deserved. Her passionate spirit and innovative contributions to the world of Revenue Marketing® are transforming the way customers create revenue."
"Industry mavericks like Jeff and Debbie are shaping the future of the sales and marketing industry," noted SLMA executive director, James Obermayer. "The fact that two folks from the same company ranked in the Top 10 really says it all."
"Jeff and I really believe in our approach, our people, and each other," Debbie added. "Thank you to all who voted, and to everyone at The Pedowitz Group for your confidence."
This is Jeff's second consecutive year to be named to SLMA's Top 50 Most Influential and Debbie's first. Earlier this year, Debbie was named SLMA's Top 20 Women to Watch.
About the Sales Lead Management Association
The mission of the Sales Lead Management Association is to help companies become successful in the critical business process of managing sales leads. For more information about SLMA, call Sue Campanale at 714-637-6989. The SLMA also hosts its weekly SLMA Radio program, which reports the news of lead management and interviews CEOs and CMOs in B2B and B2C. Membership in the SLMA is free. To learn more, visit http://www.salesleadmgmtassn.com.
About The Pedowitz Group - Connect Marketing to RevenueTM
The Pedowitz Group (TPG) is the world's largest full-service revenue marketing agency. With a focus on delivering Marketing and Sales automation solutions, TPG drives sustainable revenue and return on investment for global clients. TPG helps clients create and execute demand generation strategies and tactics that generate top line revenue. TPG coined the phrase Revenue Marketer® in 2009 and it is now a registered trademark of the company. Services include strategy, program design, system selection, implementation, integration, creative services and outsourced demand generation. Customers include such industry leaders as Comcast, Deutsche Bank, Intel and Palace Sports and Entertainment. For more information on how TPG helps clients become successful Revenue Marketers®, please visit http://www.pedowitzgroup.com or blog.pedowitzgroup.com.
###