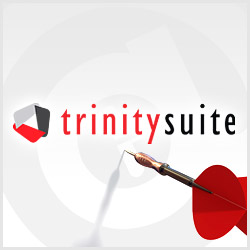 Charlotte, North Carolina (PRWEB) December 07, 2011
Trinity Suite's partner, e-autobusiness, specializing in customer acquisition and retention solutions for automotive retailers nationwide, announced today that it had received manufacturer certification from Mitsubishi North America for its AEROS Software Suite for automotive Customer Relationship Management (CRM).
This certification ensures that the AEROS Software Suite is a preferred and compliant CRM and lead management system for the 400-plus Mitsubishi dealers nationwide. e-autobusiness is already a recognized, certified and compliant provider for many manufacturers, including Acura, BMW, Buick, Cadillac, Chevrolet, GMC, Honda, Infiniti, Jaguar, Land Rover, MINI, Nissan, Saab, SMART and Subaru.
The AEROS Software Suite, used exclusively by Trinity Suite, offers customers modular features like web-based Internet Lead Management, BDC Management, Data Mining, and Dealer Management System integration, as well as more robust CRM modules. The company's unique "Crawl, Walk, RunTM" methodology enables dealers to deploy a right-sized CRM system, and to add on needed software modules over time as employee utilization and return on investment increase.
"As Mitsubishi continues to enhance their dealers' competitive position in the marketplace, this certification of the AEROS Software Suite brings sophisticated and effective lead management and CRM solutions to dealers for a phenomenal price," says Christian Thornton, Managing Director, e-autobusiness. "Successful dealers realize in today's business climate that the timely and professional management of every business opportunity is critical, and it directly affects customer satisfaction and profitability. We are pleased to earn this distinction as a certified solution provider from globally recognized brands like Mitsubishi."
Trinity Suite and e-autobusiness is also in talks with seven additional manufacturers who have invited the company to become a certified and recommended vendor for their franchises, representing an accumulated 5,500-plus dealerships nationwide.
The all-in-one AEROS Software Suite helps automotive dealers experience bottom-line results in sales, service, F&I, special finance, and parts. It does so by delivering web-based CRM, Internet lead management, BDC management, lease and finance payment software, as well as by providing integrated customer-facing marketing services. These marketing services include text messaging, targeted mail and mass email.
The company further bundles seamlessly integrated custom automotive website design, SEO and hosting services with additional web-based inventory management and vehicle-data publication software and all from a single vendor using a single log on. This trinity of powerful solutions ensures that auto retailers can leverage all technologies from a single vendor at one low price to run their modern-day automotive dealership better.
For more information visit http://www.trinitysuite.com or call (704) 246-1623.
###