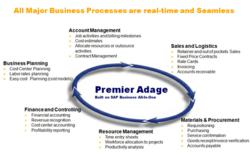 We selected Advent Global to provide us with an easy and effective way to keep client project information organized and at our fingertips.
Hamilton, NJ (PRWEB) December 08, 2011
Advent Global Solutions, Inc. (Advent Global) announced today that it was selected by VML, a full-service digital marketing agency and Young & Rubicam/WPP company, as the partner for implementing the power of SAP® All-in-One—a comprehensive solution that includes production, human capital, project/program management and embedded analytics. VML is also leveraging Advent Global's deep expertise in the media, advertising and marketing services industry through their Premier Adage solution to build a platform for expansion across revenue streams and geography.
"We selected Advent Global to provide us with an easy and effective way to keep client project information organized and at our fingertips," said Craig Braasch, chief operating officer. "As a full-service agency, it is imperative that all of our data is streamlined and available through a multitude of dimensions. The ability to track and analyze current and past projects—including the resources, planning and processes that directly affect the growth of our business—is extremely valuable."
Built upon the SAP® All-in-One platform and designed to adapt to the ever-changing needs of service providers like agencies, the Premier Adage solution comes integrated with finance, business development, planning, resource and account management functions. Pre-configured as a fixed time, cost and implementation solution, Premier Adage provides for an easy ramp-up. More importantly, it allows busy agencies to improve and grow their bottom line as it easily integrates with their media systems, workflow and traffic systems.
"For 15 years, Advent Global has created strong partnerships with small, medium and large agencies," said Madhu Madhavan, head of enterprise solutions. "We have worked diligently to become a trusted partner who understands the complexities of agency operations. We are looking forward to working with VML and helping them to meet their business growth goals."
About VML
VML delivers creative solutions at the intersection of marketing and technology. The agency is recognized by Advertising Age as a top digital marketing agency.VML engineers best-in-class digital experiences for some of the most respected and recognized brands in the world, including Carlson Hotels Worldwide, Colgate-Palmolive, Dell, Ford, Gatorade, Hill's Pet Nutrition, Hostess Brands, Microsoft, Quiznos, Sam's Club, SAP, Southwest Airlines, T-Mobile, Western Union and Xerox. Founded in 1992, VML is headquartered in Kansas City, Missouri, with principal offices in New York City, Seattle and London. Learn more at vml.com.
About Advent Global Solutions, Inc.
Advent Global is a global systems integrator specializing in ERP, information governance and mobile content delivery. Founded in 1997 and headquartered in Houston, TX, Advent Global has offices and affiliations across the globe. Advent Global's clients include companies like JWT (J. Walter Thompson), RAPP, Katz Media Group, Apple, Pepsi, Nike, and IBM. Advent Global maintains partnerships with all the major technology and business service providers and is an advisor to quite a few national/global business establishments. Advent Global's Media and Agency Practice brings relevant solutions and support to the industry. To learn more about Advent Global's solutions, please visit: http://www.adventglobal.com or call 609.631.0050.
###