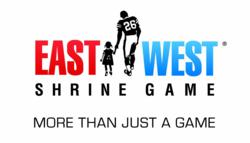 This is a great family event and supports a great cause, helping Shriners Hospitals for Children provide state of the art medical care to children in need
St. Petersburg, Fla. (PRWEB) December 06, 2011
The East-West Shrine Game tickets are on sale now through all Ticketmaster outlets. Fans can purchase tickets for the January 21, 2012 game online at http://www.shrinegame.com, http://www.ticketmaster.com, or by phone at 727-342-5777.
All game tickets are $15 general admission tickets (price does not include service fees). The game will be played at Tropicana Field, St. Petersburg, FL. Kick-off will be at 4 p.m., local time.
"This is the 87th annual edition of this college all-star football game, making it the longest running college all-star game in the country," said Harold Richardson, Executive Director of the East-West Shrine Game. "We are happy to be playing for the first time at Tropicana Field in St. Petersburg and are pleased by the overwhelming community support we have received. This is a great family event and supports a great cause, helping Shriners Hospitals for Children® provide state of the art medical care to children in need."
More than just a game, it has emerged as a showcase for up-and-coming NFL talents. The 2011 East-West Shrine Game was no exception with 52 players currently on active NFL rosters and 18 players on NFL practice squads.
The 2012 game promises to showcase the top NFL prospects from colleges around the country. Since 1925, the East-West Shrine Game has helped raise money and awareness for Shriners Hospitals for Children, a health care system of 22 hospitals dedicated to improving the lives of children by providing pediatric specialty care, innovative research, and outstanding teaching programs for medical professionals. Children up to age 18 with orthopedic conditions, burns, spinal cord injuries, and cleft lip and palate are eligible for care and receive all services in a family-centered environment, regardless of the patients' ability to pay.
About Shriners Hospitals for Children
Shriners Hospitals for Children is changing lives every day through innovative pediatric specialty care, world-class research and outstanding medical education. The 22 hospitals in the United States, Canada and Mexico provide advanced care for children with orthopaedic conditions, burns, spinal cord injuries, and cleft lip and palate.
Shriners Hospitals for Children is a 501(c)(3) nonprofit organization and relies on the generosity of donors. All donations are tax deductible to the fullest extent permitted by law.
###