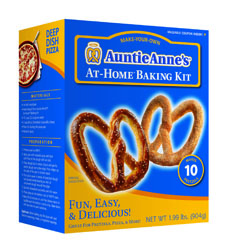 We made the Auntie Anne's At-Home Baking Kit as a fun treat for lots of folks on your gift-giving list
Lancaster, PA (PRWEB) December 07, 2011
According to recent reports, consumers are planning on spending less this holiday season, making the search for affordable holiday gifts a top priority. For frenzied consumers faced with the challenge of sticking with a leaner holiday budget, Auntie Anne's At-Home Baking Kit™ provides the opportunity to purchase a unique and lower price point gift that gives recipients the option to make several popular recipes with Auntie Anne's pretzel dough designed for at-home baking.
A specialty item in the food gifts category, Auntie Anne's At-Home Baking Kit delivers the fresh baked goodness and enticing aroma of Auntie Anne's Pretzels into kitchens across the country. Launched in November 2010, the product appeals to holiday gift givers because of the worldwide recognition of the Auntie Anne's brand, the general consumer appeal of the kit due to a rise in home baking, and the affordable suggested retail price ranging from $3.99 to $7.99.
Auntie Anne's At-Home Baking Kit contains step-by-step instructions and all of the key ingredients needed to prepare Auntie Anne's signature pretzel dough. This includes the pretzel company's special at-home baking dough mix, yeast, baking soda, salt, and cinnamon sugar. The easy-to-prepare kit makes 10 Original or Cinnamon Sugar Pretzels.
Since the dough mix is so versatile, bakers aren't limited to making only Auntie Anne's familiar pretzel products. Auntie Anne's Food Science experts created a host of additional breakfast, appetizer, entrée, side dish, and dessert recipes that can be made from the food gift, including cinnamon pull-apart bread, cheesy twists, deep dish pizza, stuffing, and bread pudding. A video demonstrating how to make pretzels and other recipes can be viewed on You Tube/Auntie Anne's Pretzel channel.
Auntie Anne's Food Technologist, Natasha Chamberlin said, "We made the Auntie Anne's At-Home Baking Kit as a fun treat for lots of folks on your gift-giving list, including service providers, such as your postal delivery person who you wish to thank, families looking to bake together or even a party hostess who is looking to produce a delicious treat."
Shoppers can purchase Auntie Anne's At-Home Baking Kit at participating Auntie Anne's stores, national super centers, regional grocery chains, specialty retailers, and club stores.
About Auntie Anne's
With more than 1,150 locations in 45 states and 23 countries, Auntie Anne's is the world's largest soft pretzel chain. The company prides itself on offering fresh-from-the-the oven pretzel products by mixing, twisting, and baking pretzels to golden brown perfection in full view of customers. Auntie Anne's pretzels come in a variety of flavors. For more information, visit http://www.auntieannes.com, facebook.com/auntieannespretzels, twitter.com/auntieannes or youtube.com/auntieannespretzels.
###