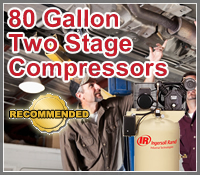 If you rely on compressed air power on a regular basis, these two-stage compressors are perfect for you
Bolingbrook, IL (PRWEB) December 06, 2011
Today AirCompressorsDirect.com announced its recommendations for top two-stage 80 gallon air compressors.
"80 gallon two-stage air compressors are found in auto-body garages and manufacturing facilities," said Steve Robbins, resident product expert at Air Compressors Direct. "If you rely on compressed air power on a regular basis, these two-stage compressors are perfect for you."
According to Robbins, most retailers are loyal to whatever two-stage air compressors are on their floor.
However, AirCompressorsDirect.com, isn't your ordinary retailer. The online superstore specializes exclusively in air compressors and carries more than 130 two stage air compressors from many leading national brands.
The online retailer combined retail prices, recent sales history, customer reviews and personal insight to generate their final recommendations.
Once the dust and data settled, only three 80 gallon 2 stage compressors sold by AirCompressorsDirect.com were given their prestigious "Recommended" status.
Top 80 Gallon 2-Stage Air Compressors
Good: BelAire 5-HP 80-Gallon Two-Stage Air Compressor (208-230V 1-Phase) - 218V
Better: Ingersoll Rand 5-HP 80-Gallon Two-Stage Air Compressor (230V 1-Phase) - 2475N5
Best: Quincy 5-HP 80-Gallon Two-Stage Air Compressor (230V 1-Phase) - 251CP80VCB
In addition, Robbins personally wrote online reviews for each 80 gallon two-stage air compressor, explaining why the company recommended it.
By providing the recommendations and reviews, Air Compressors Direct hopes to arm shoppers with enough ammunition to pick the perfect air compressor for their needs.
Power Equipment Direct operates nine niche online superstores. In addition to AirCompressorsDirect.com, the Bolingbrook, IL-based company operates ElectricGeneratorsDirect.com, PressureWashersDirect.com, SnowBlowersDirect.com, MowersDirect.com, WaterPumpsDirect.com, SumpPumpsDirect.com, ChainSawsDirect.com and LogSplittersDirect.com.
###