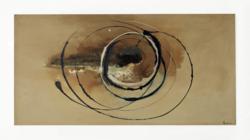 New York, New York (PRWEB) December 06, 2011
SIBONELO DUMAKUDE: REFLECTIONS on display at The Atelier until Jan. 28, 2012
SouthWinston, a diversified investment holding company and art collector, is pleased to announce the exhibition of new paintings by Sibonelo Dumakude, one of Africa's great emerging artists. Running until January 28, 2012, the exhibition comprises 14 paintings from a continuing body of work that began in 2008, which the artist refers to as "Reflections". In his paintings, Dumakude combines the improvisational velocity of painting with varied methods of abstract painting to explore his days growing up in rural South Africa, moving to the big city and subsequently being shot by intruders whilst working as a security guard.
Referring to this abstract painting series, Dumakude says: "These are my newest works, just plain improvisation on emotion and my consciousness while lying in the hospital for over a year and a half recovering from the gunshot wounds that almost killed me. They are about freedom of line and color and blurring the distinction between memory and reality. My paintings bring me back to my memories both in the beauty and horror of South Africa. I grew up during apartheid so reflecting a country's struggle and eventual freedom with Nelson Mandela's release from jail, was important for me "
Layered into this complex and beautiful work are very deep personal emotions. These emotions which can be seen in the fragmented abstractions among the colors, lines and circles, were developed during his youth and adulthood. They relate specifically to his days at school; which was a three hour walk away, his growing up in poverty where running water was a luxury, his hatred of apartheid where blacks were persecuted and, his near death experience where his hopes of living in the city were cut short by being shot.
Born in Kwazulu Natal in 1977, Dumakude has started to occupy a prominent position in the South African and European art world. Along with Ronald Harrison, Zwelethu Mthethwa, Sydney Kumalo and Irma Stern he has helped bring South African artists to an international platform.
Following the debut New York exhibition that opened on November 17, Dumakude's works are now being recognized by major contemporary dealers and collectors in New York. In the spring of 2012, Dumakude will be exhibiting other pieces from this collection at major contemporary galleries in Los Angeles and Miami.
The current exhibition is an opportunity to not only purchase a work from a limited collection and release but also be a part of a movement of African artists who are soon to be major contemporary artists.
For more information including press photos, contact James Maher at info@southwinston.com or +1.646.651.5313.
To view images of the art on exhibit and see a video of the artist, visit Dumakude.com.
About the Gallery
The Atelier at 635 W42nd Street is a luxury 46-story residential tower on Manhattan's West Side designed by the award-winning architectural firm Costas Kondylis & Partners. The building features innovative spaces, including ground-floor retail space and a dramatic lobby housing a contemporary art gallery with a rotational series of exhibits. SIBONELO DUMAKUDE: REFLECTIONS will be on view until Jan. 28, 2012, with no admission fees. Please note there are no specific exhibit hours, as this is a residential space, so the collection will be on view daily.
###