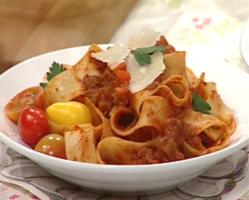 Fairfax, VA (PRWEB) December 07, 2011
Apples, pumpkins, squash and autumns crop of fruits and vegetables are often used in-season produce this holiday season that offer a range of intense flavors and substantial textures. Whether planning meals with in-season produce or looking for recipes that epitomize this time of year, Celebrity Chef Candice Kumai spoke with NewsWatch to give her tips on how to help incorporate the one staple that the USDA has said is an essential part of a healthy and balanced diet into everyone's favorite fall and holiday recipes—pasta.
Chef Candice Kumai shares her tips on how to jazz up holiday meals and make them healthier for everyone. During the holiday season it becomes easy for Americans to skimp on their fruits, veggies and whole grains in favor of all the yummy holiday goodies.
Candice shares with viewers some recipes and helpful advice on how to enjoy some of the fall and holiday food faire all while incorporating the new food guidance icon issued by the USDA, called My Plate, which reaffirms what nutrition experts have known all along—grain foods are an essential part of a healthy and balanced diet.
Candice is well known for when she made her way into the heart of Americans on Season One of Bravo's "Top Chef." She has since become co-host of Lifetime's hit series, "Cook Yourself Thin" and helped create the show's companion cookbook which became #1 on The New York Times Best Seller List. Candice is also chef-contributor on Cooking Channel's "Unique Eats," one of the expert hosts on TLC's "Home Made Simple" and will be featured as a judge in the upcoming season of "Iron Chef America." In February 2011, Candice released her first solo cook book, "Pretty Delicious," which is being called "the most gorgeous health inspired cookbook ever published."
NewsWatch is a weekly 30-minute consumer oriented television show that airs nationwide. NewsWatch regularly feature top celebrities, health tips, technology products, medical breakthroughs and entertainment news on the show. The show airs in 180 markets nationwide as well as all of the top 20 broadcast markets in the country, and is the preferred choice for Satellite Media Tour and Video News Release Distribution. For more information, head to newswatchtv.com
###