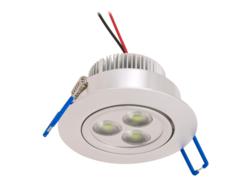 In 2011 LED Waves launched a line of LED lights engineered and assembled in the USA - a significant achievement for an operation of 12 employees.
Brooklyn, NY (PRWEB) December 08, 2011
LED Waves is a Brooklyn-based LED lighting supplier specializing in retrofit and customized lighting solutions as well as Original Equipment Manufacturing. While in-house production was previously limited to projects for private OEM clients, this year marked the turning of a new leaf for the company.
In 2011 LED Waves launched a line of LED lights engineered and assembled in the USA, available directly to consumers. This was a significant achievement for an operation consisting of approximately 12 employees.
The new products made in the USA exclusively by LED Waves include the Genesys LED T8 tube light. This product set itself apart from other fluorescent replacement tubes because it was engineered to match daylight - a welcome change for the dreary workplaces where one often sees fluorescent lights.
LED Waves also created LED light bulbs retrofitted for standard E26/27 sockets: the New York PAR38 LED light bulb and the Chicago PAR30 LED light bulb. Both are industrial-strength spotlights built with CREE XPG LED chips. What's more, the New York and the Chicago each surpass the esteemed chip-maker's own PAR38 and PAR30 in terms of brightness and lumens per Watt!
The most recent addition to LED Waves' American production line is the Midtown LED recessed down light. Each 9 Watt fixture matches the light output of a 50 Watt halogen bulb. The 30,000 hour lifespan allows it to go years without a replacement - maybe even a lifetime.
The US Department of Energy's Lighting Facts® program has verified the performance of each of these products. Look for the Lighting Facts® label wherever high quality LED lights are sold.
Moving forward, in 2012 the company plans to launch an exclusive PAR20 LED light bulb as well as a multi-directional replacement for a standard 60 Watt incandescent bulb. Domestic in-house manufacturing makes custom orders easy! Call LED Waves at 1(800)986-0169 technical help, quantity pricing, and the personal attention only a small business can offer.
###