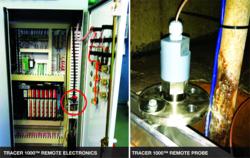 In our application, [remote electronics] is an absolute necessity
Cleveland, OH (PRWEB) December 07, 2011
The City of Youngstown sought out FLO-CORP (Flow Line Options Corp.) for an innovative level control solution to lift station flooding. Waste water mixed with electronics provides a complicated problem for the city. Level measurement is a necessity in the lift station even though flooding makes it difficult to keep a level transmitter operational. Water damage results in costly equipment replacement. FLO-CORP's Tracer 1000™ with Remote Electronics offers a solution by equipping the station with a fully submersible sensor, while the electronics are mounted in a separate, dry location. The level transmitter controls station pumps based on inflow of waste.
Remote electronics are an alternative to conventional level devices where the electronics are fixed directly to the sensor. "In our application, [remote electronics] is an absolute necessity," explains Walt Eichelberger, Maintenance Manager for the Waste Water Treatment Plant in Youngstown. "Everywhere we put these level devices, it floods." Now when flooding occurs in the lift station, the facility does not have to be concerned with equipment damage.
While Tracer 1000™ level transmitter with remote electronics plays a defensive role against flooding, it does not compromise its offensive approach to level detection. The transmitter uses advanced Guided Wave Radar technology, which sends high frequency, electromagnetic waves down the probe. And the transmitter uses Time Domain Reflectometry to measure level far more accurately than ultrasonic level devices or floats, even when configured with remote electronics. Additionally, because Guided Wave Radar senses level using a probe, the Tracer 1000™ is not susceptible to clogging the way submersible pressure transmitters are in waste water applications where sediment is prevalent.
FLO-CORP provides Youngstown's lift station with a level transmitter that demonstrates strength in both durability and accuracy, which is a cost-effective solution for the municipality and ultimately the tax payers.
Follow the links below for more information on the Tracer™ 1000:
Product Information: Tracer 1000™ Radar Level Transmitter
White Paper: The Advantages of a Level Transmitter with Remote Electronics
White Paper: Ultrasonic Transmitters vs. Guided Wave Radar for Level Measurement
Video Tutorial: Ultrasonic Level vs. Guided Wave Radar Level
About FLO-CORP
FLO-CORP (Flow Line Options Corp.) is committed to providing properly selected and configured flow, level, and display products with a focus on innovation and customer service.  In 1988, FLO-CORP was incorporated in the State of Ohio and started as a small distribution company.  In the last five years, FLO-CORP has moved past distribution and into manufacturing our own line of products.  Through manufacturing, we have gained more control over origin of product, quality, and lead times.  Furthermore, FLO-CORP now has creative control in the development of new products.  We can focus on adding the functionality and features that will best serve our customers.  FLO-CORP's management of quality, lead times, and innovation come together allowing us to provide more product value to our customers.  We remain committed to personal customer interaction, where help can still be found without hearing an automated phone system.  The FLO-CORP family is dedicated to working hard for our customers by using over three decades of combined experience in flow, level, and display. For more information, visit the company website at http://www.flo-corp.com
About the Youngstown Waste Water Treatment Plant
Youngstown's Waste Water Treatment Plant is ranked as one of the most modern in the country as a result of its innovative design for sludge handling. The capital investment made in 1989 to implement secondary treatment enabled the plant to meet modern EPA standards. The plant's proper operation assures the clean and efficient processing of wastewater not only for customers in the City of Youngstown, but also to customers in other portions of Mahoning and Trumbull Counties. For more information, visit the city's website at http://www.cityofyoungstownoh.org
###