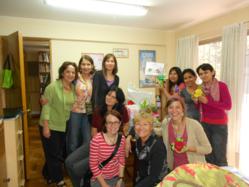 Owatonna, Minn. (PRWEB) December 06, 2011
LZX continues its partnership with the USDA to promote and educate individuals based on the new 2011 food pyramid nutritional guidelines, MyPlate. LZX understands it's not only the United States struggling with nutrition education. The company has been a long time supporter of EPES, and is excited to offer various Spanish-translated MyPlate (MiPlato) products to them for the training of Chilean health promoters.
Years ago, one of Chile's biggest health problems were low birth weights due to malnutrition. Today, fast food and other social trends have brought the country to the opposite extreme: in 2010, 62% of the Chilean population was considered overweight or obese.
This is one of the health promotion issues tackled by EPES (Educacion Popular en Salud /Popular Education in Health) Foundation. With the help of Learning ZoneXpress, EPES has launched a pilot program to train local women to act as community nutrition education promoters. LZX has a continued relationship with EPES and recently donated numerous posters, tablets, activity books, and other educational tools to the program for these training purposes.
The program began by evaluating the diets of families in a low income sector of Santiago. EPES spent six months meeting with parents and children, nutritionists and school officials to understand the barriers to good nutrition and regular exercise. Some blame the growing presence of fast food outlets. Others note that grocery stores are offering more processed foods at lower costs. First Lady, Cecilia Morel attributes the obesity trend to the "sedentary lifestyles" nine out of 10 Chilean women currently lead.
EPES is responding by taking a close look at local realities and proposing community solutions. Many Chileans are unfamiliar with healthy eating options, or can't afford them. EPES began by creating a cookbook full of nutritious and inexpensive meals with readily available local, healthy ingredients.
For the long term, EPES is developing a program to train local women as nutrition promoters. The pilot class of women recently completed their training preparing a healthy, celebratory meal. LZX plans to be a key to Chile's success in nutrition education.
Learning ZoneXpress is, based in Owatonna, Minn., is a leading source of "edu-taining" and award-winning teaching tools. Its mission is to help improve the health and vitality of children by providing relevant, creative and affordable learning tools about life skills, healthy behaviors and nutrition. Learning ZoneXpress offers a wide variety of affordable education DVDs, posters, games, lesson plans, and PowerPoint presentations.
For more information about Learning ZoneXpress products, visit http://www.learningzonexpress.com or call Toni Gnasdoskey at 888-455-7003.
###