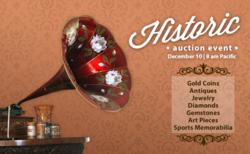 Tehachapi, CA (PRWEB) December 07, 2011
Government Auction announces its Historic Gold Coins & Antique Auction to be hosted on the online live auction site Proxibid.com.
The auction will feature over 1,000 items to be auctioned off in this one day event. Most items will start bidding at $1. A few of the items to be auctioned off on this historic event will be; 1904 U.S. $20 Liberty Head Gold Coin, 1927 U.S. $20 Saint Gaudens Gold Coin, 1895 U.S. $20 Liberty Head Gold Coin, 18kt. Rolex Oyster Perpetual Daytona 1992 Watch, Rare Rolatop Wattling Slot Machine, Cailli Upright Slot Machine, Antique Regina 27.5 Inch Changer Music Box, 1834 $2.50 Classic US Gold AU, and more.
Demand in rare gold coins has increased the last few years especially with the uncertainty of stocks and other investments in these uncertain economic times. Gold coins have gained popularity as investors try to preserve their assets by investing in gold.
To view this auction please click the link below
HISTORIC GOLD COINS & ANTIQUES AUCTION on Proxibid.com- Saturday, Dec. 10-8:00 AM PST
http://www.proxibid.com/asp/Catalog.asp?aid=46593
About Government Auction
Government Auction is a private company, the largest company of its kind to acquire literally thousands of properties and assets. In most cases we acquire these properties and assets at 30% - 50% of actual retail value. This enables potential buyers throughout the world to buy land and invest in assets at discounted pricing.
Contact Info:
Chris Budge
Marketing Representative
Government Auction
Phone: 661-823-1543
###