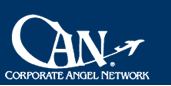 Cancer patients fly free in empty seats on corporate jets
Dallas, TX (PRWEB) December 06, 2011
JetOptions is pleased to announce their affiliation with Corporate Angel Network, by offering empty seats to cancer patients who require surgery and treatment: often in distant locations that would otherwise be unreachable due to financial or logistical constraints.
Every Monday, a flight planning representative from the private jet charter company will send Corporate Angel Network a list of flights with empty seats, allowing the charity to match them to patients at the aircrafts' departure locations.
The decision to join CAN came after executive management at JetOptions became aware of the great work that the charity carries out, and decided that their empty seats could offer a lifeline to patients who really need them.
Gus Lira, JetOptions Sales Vice President, explains how these seats become available:
"We utilize a large number of aircraft and this often requires us to reposition an aircraft or fly it to pick up a passenger without anyone on board except the crew. We decided that these flights present a perfect opportunity for cancer patients requiring care to travel for free – so we set to work to become a partner with Corporate Angel Network."
Since its inception 30 years ago, Corporate Angel Network has arranged over 38,000 flights among their 530 participating corporations. In a typical month they are able to offer transportation to around 300 patients. As the service is free, it often relieves the burden of both the financial and emotional stress that comes with requiring treatment away from home.
JetOptions has access to 3500 aircraft, and the ability to fly to 5000+ airports so patients are able to benefit from transportation to and from more than just commercial U.S airports. These airports, often too small for larger commercial aircraft, are perfect for the business jets that JetOptions utilizes. The result is a network of routes that serve even the smallest of communities.
"We are so delighted to be working with Corporate Angel Network, especially as we serve airports that require patients to travel only a few miles from home to be able to board our aircraft. I can see that we're going to have a long and successful partnership – and we look forward to offering cancer patients travel to get the care that they both need and deserve" explains Gus Lira.
The Corporate Angel Network also accepts donations from the general public. You may send checks directly to:
Corporate Angel Network
Westchester County Airport
One Loop Road
White Plains, NY 10604
You will receive an acknowledgement that your contribution is fully tax-deductible. If you have any questions, please email them at info(at)corpangelnetwork(dot)org or call for further information at 914-328-1313.
About JetOptions
JetOptions Jet Charter is a world-class provider of on-demand private jet charter services. Operating worldwide, 365 days a year, the company uses over 3500 aircraft, 5000 airports and a unique online booking system to allow its customers to charter a jet to any corner of the globe with a moment's notice.
With 20 years of experience, the company has grown to have offices located in Dallas, Malibu and Miami. The company has a specialists' team of experts who can arrange, charter and dispatch a private jet to clients within 2 hours or less.
###