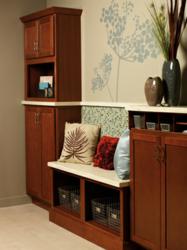 "Today's cabinetry is extremely versatile and able to meet the specialized needs of other-room applications."
Ann Arbor, Mich. (PRWEB) December 08, 2011
As we head into 2012, smaller spaces, smaller budgets and higher expectations will drive the design of affordable spaces homeowners will love. According to Sarah Reep, director of designer relations & education for QualityCabinets™, "Today's cabinetry is extremely versatile and able to meet the specialized needs of other-room applications."
Cabinetry is Not Just for the Kitchen Anymore
Cabinetry has long been used to create distinctive kitchens and baths, but by choosing affordable and versatile cabinetry like QualityCabinets, those same cabinets can be used throughout the home to add style and function to nearly any room.
The Great Room
According to Reep, the trend of open living spaces is still strong; however, the great room is becoming smaller in size. "With this in mind," said Reep, "homeowners need to consider making every inch of the home, including the great room, functional for that specific living space."
For example, the entertainment center is usually the focal point of the room, continued Reep, so why not make it beautiful? The TV doesn't have to live on its own with just one purpose; cabinetry can be used to house the TV or to surround it. And, this cabinetry can serve as great storage for everything from DVDs and video game systems to board games.
If reading is also a part of your families' lives, bookshelves are another dramatic and functional design addition that can be created with cabinetry. "This is one of my favorite ways to add personality to a room," continued Reep. "It adds valuable storage without taking up a lot of room, plus it's a great way to display family photos and personal treasures."
The Bedroom
A little creativity can go a long way when it comes to cabinetry design, including the use of cabinetry in the bedroom. As homes are getting smaller, bedrooms are sometimes being used for more than just sleeping. Often it serves as the home's office or craft room, and with these dual purposes storage becomes even more important.
According to Reep, "Cabinetry is often overlooked as being useful in the bedroom, but it has the ability to transform into a desk, window seats or a built in dresser. In addition to being extremely practical, cabinetry has the ability to look like high end furniture pieces, at a fraction of the cost."
Reep went on to explain that while cabinetry may seem like a long term decorative commitment for a bedroom, with these simple considerations it can stand the test of time and add long-lasting value:

Choosing cabinetry with clean lines and neutral finishes has the ability to work with most any décor, from whimsical to modern.
Remember, a simple change of hardware can dramatically change the look of a furniture-like piece.
Consider including in a bedroom layout, areas that can accommodate a child and a teenager; for example, where a child can sit and color can adapt to a computer/homework desk later on. Plus, a space where a child plays with his or hers toys could also be a dressing area for a teenager.
The Multipurpose Room
Another growing trend in today's homes is the need for a "multipurpose" room. "These types of rooms can be used for anything from hobbies to everyday activities such as laundry, ironing, or even a place to use exercise equipment," said Reep.
In creating a multipurpose room, cabinetry presents homeowners with a solution that accommodates the miscellaneous items and activities of a busy family without compromising style. It provides homeowners with functionality, yet has the ability to blend in with the décor of the rest of the home. "The cabinetry in the multipurpose room can match the cabinetry and wood in the rest of the home to keep a consistent and connected look throughout," continued Reep.
Smart use of cabinetry in this room can provide a great deal of storage to accommodate all of the homeowner's needs. "For example, homeowners might want to consider the addition of an island on wheels in order to have additional storage and have a moveable work space," added Reep. "This movable island can be used to fold laundry, do homework, wrap presents, etc."
One thing is clear; a higher level of taste and a demand for functional living spaces doesn't have to mean a higher price tag, according to Reep. "Most of us don't live in million-dollar mansions, but we still want to live in a home that gives us a sense of comfort and pride," said Reep. "But this requires thinking outside of the box in terms of design – like using cabinetry throughout the home."
To learn more about the many sensible design options available from QualityCabinets, visit QualityCabinets.com.
Editor's Note:
For photos and more information, visit QualityCabinets.com/PressRoom
For updated tips and trends, visit the http://QualityCabinets.com Facebook page and check out their My Q Blog and Twitter.
About QualityCabinets. QualityCabinets helps transform living spaces into spaces you'll love, with cabinetry solutions that add long-lasting value and bring utility, comfort and beauty to a home. In homes for GenY to Boomers, loft space to universal design, QualityCabinets provides beautiful solutions that stand the test of time. Based in Ann Arbor, Mich., and part of Masco Cabinetry, QualityCabinets delivers design solutions that work — in big spaces and small. A leader in environmental stewardship, Masco Cabinetry has been certified ISO 14001 and granted an Environmental Stewardship Program certificate by the Kitchen Cabinet Manufacturer's Association (KCMA). http://www.qualitycabinets.com
###